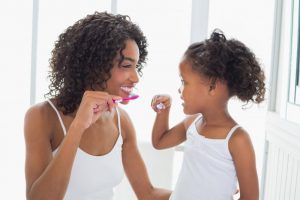 Did you know that you can start teaching your child healthy oral habits basically right after birth? Starting with just a washcloth, you can wipe bacteria away from their gums. As their teeth come in, you can switch to brushing after feedings, and you can bring them in to see the dentist after their first birthday and every six months after that. Have you done all that? Well, even if you haven't put much thought into your child's oral health before, now is a great time to focus on teaching your child healthy oral habits, like brushing and flossing daily and visiting your dentist in Spring Lake for checkups and cleanings twice a year. After all, February is National Children's Dental Health Month.
Preserve Their Natural Teeth
Even if your child still has their baby teeth, they are still important. After all, they use them to bite, chew, speak, and smile on a daily basis. If you neglect your child's mouth, they could lose their teeth before they are supposed to, causing potential problems in these basic tasks.
Make Room for Permanent Teeth
In addition to using their baby teeth for normal daily functions, your child's baby teeth serve another important purpose: they are placeholders for permanent teeth. If your child loses their baby teeth too soon, permanent teeth can wander out of place more than if the baby teeth had been there to pave the way. This can lead to overcrowding or misaligned teeth that need more extensive orthodontic treatment than they would otherwise have needed. Baby teeth are worth protecting to help make the transition to healthy permanent teeth as smooth and painless as possible.
Have Fun Learning
With the all the advancements we enjoy nowadays, there's no reason you can't make brushing your child's teeth more fun. Consider the following apps to make brushing rewarding for your child:
Brush DJ
Brush Up
Toothsavers
Brusheez Little Monsters
Brush Teeth with The Wiggles
Disney Magic Timer App
With these apps, your child will begin to look forward to brushing their teeth!
Enjoy Dental Health in the Future
If you can establish healthy oral habits early in their life, you can set your child up for dental success in the future. They will learn that their oral health is worth the time and effort and will be more likely to continue these habits into adulthood, when more advanced oral problems become a challenge. You can guide them to the right path for dental care that can make all the difference in their health.
In the end, your child will learn from you what's important. Make sure they know that their oral health matters by consistently reinforcing good habits while they are young. Down the road you'll be glad you did. You and your child can enjoy their adorable, healthy smiles for many years to come. For more information about caring for your child's teeth, contact your dentist in Spring Lake.
About the Practice
At Dooley Dental, Dr. Edward Dooley and his staff strive to make going to the dentist as pleasant as possible for patients of every age, including children. With over thirty years of dental experience and as a father of two grown children, he knows how to put his young patients at ease. To schedule an appointment with them, you can call (732) 974-2288 or click here.