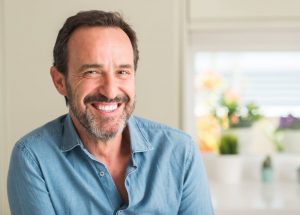 If you're missing a tooth, it affects not just your appearance but your oral health. You know you need a restoration so you can regain your ability to chew, speak, and smile the way you used to, which means that you have an important decision to make. You could opt for dentures, dental bridges, or dental implants. How do you know which one is the right one for you? Each has its own advantages and disadvantages, but one choice can improve your quality of life far more than the others. Check out these 4 ways that dental implants in Spring Lake can make your life better.
Have Complete Confidence
Unlike dentures, which can slip or come loose, dental implants are very secure. When the screw is surgically placed, it stimulates bone growth in the jaw, and the bone grows to surround the implant. It becomes firmly anchored to the jaw bone much like a natural tooth, which means that you can put your trust in it. You can bite, chew, speak, and smile without worrying about your restoration. In fact, you may even forget you have a restoration!
Improve Oral Health
Because dental implants stimulate bone growth in the jaw, they actually help prevent bone density loss, which is common following the loss of a tooth. Although dentures and bridges fill the gap above the gum line, losing bone density underneath is still very likely. This can lead to a sunken-in look, which drastically ages your appearance. In the long run, dental implants help preserve your facial structure and promote your oral health more than any other restoration option.
Enjoy Your Tooth Restoration Longer
Compared to other restoration choices, dental implants can last the longest. Dentures are typically replaced about every 5 to 7 years, and dental bridges can last between 7 and 15 years before needing to be switched out. With the proper maintenance, on the other hand, dental implants have a potential lifespan of up to 30 years or longer.
Save Money in the Long Run
Dental implants have a higher upfront cost than their restoration counterparts. But because dental implants have a longer lifespan than dentures and dental bridges, dental implants could be the smarter financial choice in the long run. Your dentist can help you calculate the costs of the different procedures over time to help you see which makes the most financial sense.  If you choose dental implants and maintain them well, you could save yourself some money that you could use elsewhere.
Save Your Healthy Teeth
Dental bridges use the surrounding healthy teeth as anchors for the prosthetic tooth. Often, these teeth end up needing additional dental work or need to be extracted themselves as a result. Dental implants stand independent of your remaining healthy teeth, helping you hold onto them longer.
In the end, dental implants provide the best available restoration option in almost every way. They are a durable, long-lasting, health-promoting, and potentially financially smart choice that can help you enjoy your smile for years to come. To learn more about and discuss your candidacy for dental implants, contact your dentist in Spring Lake.
About the Author
After serving as a dental office in the Navy for three years, Dr. Edward Dooley opened his private practice Dooley Dental in 1986, where he has served Spring Lake patients ever since. In 2016, he became a Fellow of the International Congress for Oral Implantologists, a rare status for general dentists. To schedule an appointment with him, you can call (732) 974-2288 or click here.