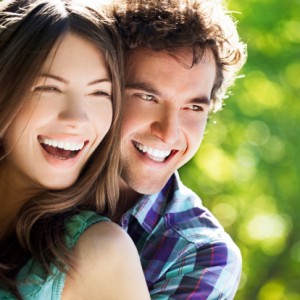 Adults and older teens want attractive smiles. However, cosmetic dental treatments, such as teeth whitening and composite resin bonding, aren't  always adequate to change up those smile aesthetics. That's where porcelain veneers or Lumineers in Wall Township can help.
Porcelain Veneers Hide Imperfections
Wall Township dentist, Dr. Edward Dooley, examines teeth and gums to see if porcelain veneers can improve smile appearance. Fabricated in an outside dental lab using oral impressions and instructions from Dr. Dooley,  these super-thin ceramic shells disguise:
Dark stains from richly pigmented foods, beverages, smoking, prescriptions and simple aging
Disfigured tooth shapes and uneven lengths
Chips, fractures and pits
Minor misalignment issues (crowding and smile gaps)
Porcelain veneers address these problems and strengthen tooth enamel because they are permanently bonded to the front side of one or multiple teeth. Besides DURAthin veneers, Dr. Dooley presents no-prep Lumineers for qualified patients.
Also bonded in place, Lumineers need no enamel preparation because they are whisper thin and fit well inside the patient's mouth. Dentists consider Lumineers to be reversible because teeth are not etched or altered in thickness.
Porcelain Veneers Take Two Appointments
Doctor Dooley carefully examines a patient's teeth and gums using digital X-rays and other modern imaging as necessary. He discusses the patient's aesthetic goals and removes a thin slice (½ mm) of enamel from the front side of each tooth. He takes oral impressions and sends them to the dental lab for custom fabrication of the veneers.
A master ceramist employs true artistry to fabricate the porcelain veneers–adjusting size, fit and shade to produce a natural-looking result. During another dental visit, the doctor bonds the veneers in place, perfecting the bite and the color. Teeth with porcelain veneers blend in with natural enamel and fit well inside the mouth.
Typically, patients require no local anesthetic for this procedure. However, there can be some tooth and gum sensitivity that resolves quickly. Porcelain veneers are easy to adjust to, and with regular brushing, flossing and oral exams at Dooley Dental, they last for at least ten years. Patients should avoid chewing very hard foods such as taffy, nuts and ice cubes and should not open bottles or plastic packaging with their teeth.
Lumineers Need No Preparation
For faster, "no-prep" veneers, Dooley Dental  offers Lumineers, customized from patented Cerinate ceramic. So thin that they need no enamel etching, Lumineers bond to the front side of one or more teeth.  Though Lumineers are exceptionally thin, they are strong, lasting patients for years with the usual dental hygiene and check-ups. In one or two visits, Dr. Dooley completes the cosmetic smile makeover.
What Can We Do for You?
Your Wall Township dentist can determine if porcelain veneers or Lumineers would improve your smile.  For a cosmetic dentistry consultation, contact Dooley Dental. You will smile broadly with your excellent results.