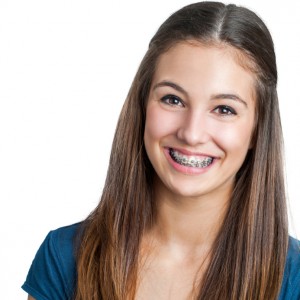 Living with a crooked or misaligned smile takes its toll on your confidence and oral health. You may feel self-conscious about smiling or talking in front of others, which is always on your mind. Did you know that because they're harder to keep clean, crooked teeth increase your risk for tooth decay and gum disease? There are many great reasons to straighten your smile and Dr. Edward Dooley can help you! Here's more information about the benefits that braces in Spring Lake can offer.
Traditional Orthodontics
Using traditional metal brackets and wires, Dr. Dooley can help patients not only straighten their teeth, but also correct bite issues such as an underbite, crossbite, or overbite. When your bite is misaligned, it can cause issues such as headaches and neck pain. It can also contribute to a jaw disorder known as TMJ. Most cases take 18-24 months to complete, and the result is not only a beautiful smile, but also a bite that protects the integrity of your oral health.
PowerProx 6 Month Adult Orthodontics
For adults who may have completed orthodontic treatment in the past, or want to focus on quick alignment, Dr. Dooley utilizes PowerProx, which uses virtually invisible brackets and wires to straighten your teeth quickly. Most cases are completed in only 6 months, and patients enjoy beauty and function from their smiles once again.
Invisalign or Clear Correct
Other patients may benefit from Invisalign in Spring Lake, or Clear Correct for aligning their teeth. Both of these systems utilize clear plastic aligners to gently apply pressure and gradually straighten teeth. Because aligners are clear and fit snugly, they're virtually invisible and don't interfere with patients' normal daily activities. They can also be removed easily for eating and brushing, which means no diet restrictions or changes to your home care routine.
Most Invisalign or Clear Correct cases can be completed in 12-18 months, and the result is beautifully aligned smile. These systems don't work well however, for patients who need corrections made to their bite.
We have many options for straightening misaligned teeth at Dooley Dental, and we're happy to set up an initial consultation with Dr. Dooley so he can determine which type of orthodontic treatment will best suit your needs. With x-rays, photos, and a thorough examination, we'll create a treatment plan that will meet your needs, budget, and goals for your smile. Give us a call to schedule your consultation today.