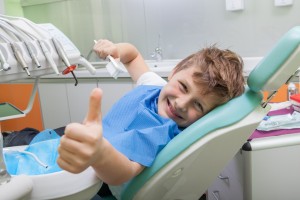 Did you know it's recommended that you bring your child to the dentist by his or her's first birthday? Introducing your child to consistent dental health care at an early stage promotes comfortability and educates the whole family on how to properly take charge of their little one's oral health. Dr. Dooley and our compassionate support team in the Spring Lake office make each pediatric appointment easy-going and gentle. Dr. Dooley is well known for being one of the friendliest children's dentists in Wall Township!
What should I expect during my child's first dental appointment?
During your children's first (or returning) dentistry appointment, Dr. Dooley will conduct a dental examination. During this time he will take a good look at your son or daughter's teeth and gums. If he notices anything unusual with the way your child's teeth are developing, he will address it at this time. Early examinations provide not only the dentist, but you as the parent or guardian the opportunity to be proactive in your child's health.  If there are any abnormalities spotted, we will be able to find them and create the best regimen to counteract those issues early on.
After examination, one of the kind members of our hygienist team gently cleans your child's teeth and teaches him or her the basics of dental care – depending on their age, of course! The team at Dooley Dental strives to effectively equip your child with the knowledge necessary to maintain their precious little smiles. We take pride in being a primary choice among all Wall Township pediatric dentists!
What kinds of children's services are offered in this office?
Each pediatric dentist appointment provides opportunities to prevent larger oral health care problems. After the dental examination, Dr. Dooley begins to take the necessary precautions to assist in preventing cavities. Prevention of cavities is important to your child's health because it will keep their teeth durable through many years to come. Cavity prevention also helps prevent tooth decay and keeps gums pretty, pink, and healthy. Here are some safety measures that our office practices to ensure optimal pediatric health:
Placing sealants over the deep grooves of molars, creating a barrier between cavity inducing products to prevent damage to your child's permanent teeth.
Brushing with special fluoride toothpaste, preventing cavities and reversing enamel demineralization.
Rinsing with refreshing, restorative mouth wash that fight cavities, plaque, and gingivitis formation.
How can I schedule my child's first pediatric dental appointment?
If you plan to be progressive in the health of your little one's teeth and gums, please contact us today to arrange a children's dentistry examination. Dr. Dooley loves to see a variety of young patients from Spring Lake, Allenwood, Howell, Eatontown, and other surrounding areas. If this is your child's initial trip to the dentist, please take the time to review the information listed on our new patient page.