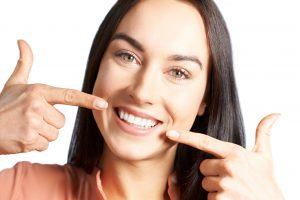 If you don't like the way your teeth look, there isn't any better time than now to schedule a consultation with your cosmetic dentist. Summer provides the perfect opportunity to fix your imperfect teeth to feel your best while relaxing in the pool or soaking up the sun. You have more options than ever to achieve your dream smile. Here are 3 of the most common dental treatments for summer.
1. Porcelain Veneers
If you have several issues you'd like to improve, you might be a candidate for porcelain veneers. A veneer is a false front that's bonded to the front surface of a tooth to instantly enhance its color, size, and shape. The versatile treatment can resolve multiple concerns using just one procedure, like discoloration, chips, and gaps. Generally, it takes 2 appointments to complete the transformation process because your teeth will need to be etched to place the veneers. If you want quicker results, Lumineers might be right for you. They offer many of the same benefits as traditional veneers; however, they don't require any enamel to be removed.
2. Teeth Whitening
Tooth discoloration and stains can make you look years older than your real age. You don't need to spend another summer hiding your dark teeth. Your cosmetic dentist can bring new life to your smile with teeth whitening. A highly concentrated whitening agent will deeply penetrate your enamel to get your teeth about 8 shades brighter. Your results can last for several years with the right care, like maintaining your oral hygiene and drinking your coffee through a straw. Your dentist will create the personalized plan you need using an in-office or at-home treatment. You can enjoy significant improvement after just one afternoon with an in-office system, or you can achieve the same results in about 2 weeks using an at-home kit.
3. Tooth-Colored Fillings
Traditional amalgam fillings can stick out like a sore thumb when you smile or speak. You don't need to worry about metal fillings blemishing your smile any longer. Your cosmetic dentist can replace old fillings or treat new decay using a tooth-colored solution. Instead of metal, a composite resin material is used, which will be shaded to match the color of your enamel to blend in with your teeth. Not to mention, composite fillings are metal and mercury-free for a biocompatible option. You'll also keep more of your tooth structure while benefiting from a solution that can last for a decade or longer.
Get a Flawless Smile Today
Don't spend another summer feeling insecure about your teeth. Invest in the picture-perfect smile you desire with the help of your cosmetic dentist. They'll craft a confident smile you'll be proud to show off.
About Dr. Edward J. Dooley
Dr. Dooley earned his dental degree at the University of Pennsylvania School of Dental Medicine before serving as a Dental Officer in the Navy. He opened his private practice in 1986, providing patients with high-quality, personalized care. If you're interested in cosmetic dentistry, contact our office today to schedule your consultation.