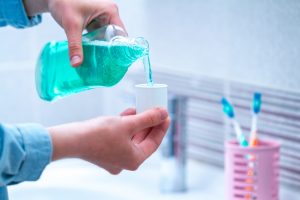 You've been keeping up with the news, so you're not surprised to see that many dentists have set up new safety protocols. Although some of these measures seem pretty obvious considering the climate (like wearing a face mask), changes like being asked to rinse with an antimicrobial mouthwash before your appointment can be unexpected.
If you have found yourself wondering how mouthwash can help fight against COVID-19, then your dentist in Spring Lake is here to answer three common questions.
Why Is Rinsing a Part of My Dentist's Safety Guidelines?
From the waiting room to personal protective equipment, your dentist's office is undergoing a complete re-design in light of the current pandemic. An integral part of implementing maximum infection control and safety procedures is asking patients to follow specific safety guidelines before, during, and after their visit. In addition to a thorough brushing and flossing beforehand, patients are expected to rinse for 60 seconds with an antimicrobial mouthwash. This specialty solution is designed to reduce harmful bacteria in your mouth than can impact your immune system and make you more likely to contract the virus.
Does Mouthwash Kill The COVID-19 Virus?
Since this virus is relatively new, extensive research is still underway. While no specific strains of mouthwash are directly linked to killing COVID-19, it has been shown to kill up to 99% of the germs in your mouth that cause bad breath, plaque, and gingivitis. Since the rampant spread of this pandemic is largely linked to exposure of saliva through air droplets, it is of the utmost importance that extensive oral care remains a top priority. Therefore, your dentist will ask you to use mouthwash before your visit to give you an extra layer of protection.
So, How Does Mouthwash Help?
Although no substantial data is available on the direct link between mouthwash and COVID-19, there is considerable research on the benefits of using it. While brushing and flossing are the foundation of a proper oral hygiene routine, some bacteria may be left behind. That is where mouthwash comes in! With its powerful antiseptic properties, it can dislodge germs from those hard to reach places. Plus, it's effective against killing the filmy bacteria that can collect on your tongue and gums. In the middle of a pandemic, taking extensive measures to kill these germs is crucial in keeping our immune system strong.
When you are asked to rinse with mouthwash before your next appointment, just know that it is one of the many ways your dentist is protecting the safety of you and their staff!
About the Author
After attending the prestigious University of Pennsylvania's School of Dental Medicine, Dr. Dooley decided to open his own practice in 1986. Since then, he has become a member of many renowned dental organizations, like the American Dental Association, International Association for Orthodontics, and the New Jersey Dental Association. Backed by his amazing staff, Dr. Dooley lives out his passion for providing the highest level of care for every patient. For detailed information on what dental safety protocols he is implementing to combat COVID-19, visit his website or give him a call at 732-974-2288.