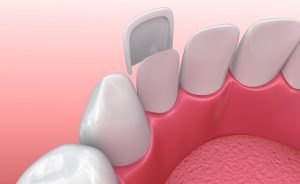 Do you need one or more teeth restored? Or, do your healthy teeth need a cosmetic makeover? Consider porcelain veneers or dental crowns from Dr. Edward Dooley in Wall Township. Individually crafted to enhance smiles, these restorative and cosmetic services help people smile confidentially and have great oral function. Which treatment is right for you?
Which Upgrade Do You Need?
Dr. Dooley has developed many preventive, restorative and cosmetic skills over the years, and he keeps those skills current by taking many continuing education courses each year. Implementing advanced diagnostic and imaging techniques and utilizing truly artistic skills, Dr. Dooley creates care plans that best suit patient need and desire.
As such, he offers two very important dental services, dental crowns and porcelain veneers, in his Wall Township office. The condition of individual teeth, plus overall dental health, determines which service Dr. Dooley recommends to his patient.
Porcelain Veneers, Lumineers & DURAthins
Porcelain veneers, or dental laminates, are custom-made shells of beautiful ceramic. Disguising the front side of teeth marred with stains, cracks, uneven length and chips, veneers create a "smile zone" that is natural-looking and attractive.
People with good oral health make the best candidates for porcelain veneers. While Dr. Dooley sometimes recommends no-prep veneers–Lumineers and DURAthins–most dental laminates require removal of a thin portion of enamel from the front side of teeth. This comfortable procedure makes room in the mouth for the veneers and for effective bonding of the ceramic to tooth surfaces. The bonding cement is blended and shaded for excellent color match.
While porcelain veneers add a measure of durability to teeth, their main purpose is cosmetic. They resist staining from foods and smoking and last for years with routine oral hygiene at home and twice yearly professional cleanings at Dooley Dental.
Dental Crowns
Dental crowns cover and protect severely damaged teeth. Tooth enamel lost to injury, extensive decay, root canal therapy or large fillings often leave roots, gums and bone intact and healthy but with little viable structure above the gum line.
Custom-made crowns rebuild tooth structure. To evaluate a patient for placement of these lifelike restorations, Dr. Dooley examines the person's teeth and gums and takes digital  X-rays.  He offers porcelain and porcelain-fused-to-metal crowns depending on the location of the tooth and the extent of the damage. After taking oral impressions, he sends treatment instructions to a dental lab for fabrication of the crown. He also removes decay and old filling material and places a "temporary" over the prepared tooth.
At the next visit, the dentist bonds the crown in place and ensures the restoration bites together properly with the opposing arch of teeth. Just like unrestored teeth, crowns require daily flossing and once a day brushing to stay bright and to fight off gum disease. With semi-annual cleanings and check-ups, dental crowns stay in place 10 years or more.
Concerned About Smile Aesthetics Or Function?
Dr. Dooley  offers porcelain veneers and dental crowns to keep smiles strong and attractive.  He can explain the differences between these two dental  services and help you decide what must be done to achieve your best dental health. Why not contact Dooley Dental today to arrange your one-on-one consultation?