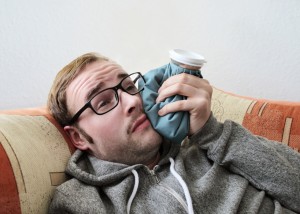 You have lost a large filling, and the tooth hurts. Don't hesitate to call your emergency dentist in Wall Township, Dr. Edward Dooley. You'll receive proper advice and treatment quickly and compassionately.
Excellent dentistry is more than professional cleanings, fillings and dental crowns. Frequently, situations require prompt action and counsel. Preserving natural tooth structure and oral function and restoring patient comfort are fundamental to emergency dentistry.
First and foremost, protect your oral health from cavities and gum disease with daily oral hygiene disciplines and with semi-annual exams and cleanings at Dooley Dental. Preventive dental services remove harmful plaque and tartar and spot small problems before they become complex.
However, sometimes dental health gets out of our control. A car accident, a sports injury, a fall on a slippery sidewalk suddenly damages teeth or lacerates soft oral tissues. What do you with this dental emergency in Wall Township?
Immediately contact Dooley Dental for non-life threatening emergencies involving teeth, gums, tongue, hard palate or jaw. Dr. Dooley and his staff will schedule an immediate appointment if necessary or advise you what to do. Your well-being and comfort are their priority.
Handling Common Dental Emergencies
Your front tooth was knocked out. Rinse dirt and other debris off the tooth with plain water, leaving any attached soft tissue. Replace the tooth in the socket if possible, and hold it there while you go to Dooley Dental.
The American Association of Endodontists says the sooner the avulsed tooth is treated, the better the chances are that it will survive. If you cannot replace the tooth, keep it moist by transporting it in a plastic bag containing milk, water or over the counter tooth preservative.
You have a throbbing toothache. You may have a dental abscess related to decay. Dr. Dooley will see you as soon as possible for X-rays and visual inspection to determine treatment. In the meantime, apply ice to your aching jaw–20 minutes on and 20 minutes off. Don't ignore the pain or try at-home treatments.
You chipped a tooth on peanut brittle. When you fracture a tooth, save the fragments, and ice the area to reduce swelling. Call Dr. Dooley for advice and an urgent care appointment. Depending on how bad they are, chips and fractures may be restored with composite resin bonding, porcelain veneers or crowns. Root canal therapy may be an option.
You lost a crown or porcelain veneer. Try putting it back in place with a bit of toothpaste or orthodontic wax. If you cannot, put it in a small plastic bag, or wrap it in a clean cloth. Bring it to Dr. Dooley.
You were in a car accident and cannot close your mouth. Your jaw could be broken This is a medical emergency. Get to a hospital ER right away. The same applies to a severe oral laceration which does not stop bleeding after 10 to 15 minutes of direct pressure on the wound.
We Are Here to Help
Nothing is more important than the health and well-being of our patients. If you experience one of the above situations, or are very concerned about the health of a tooth, contact Dooley Dental immediately. Lost time means lost oral health. We want to assist you in recovering your best smile.