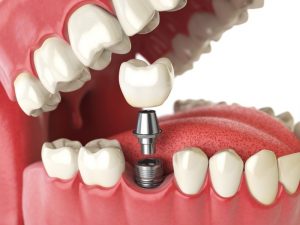 Deciding to replace your missing teeth with dental implants is a big step because the process takes place over the course of several months and involves an investment of not just your money, but also your time. That being said, there's definitely a reason why this procedure comes so highly recommended by patients and professionals alike, and that's because it has so many unique, life-changing benefits to offer. Before you book your initial consultation, it's a good idea to familiarize yourself with some of the terms that you'll hear from your dentist. That way, you don't miss a beat!
Osseointegration
Osseointegration occurs during a three to six month period after your dental implants have been placed. During this process, the implant posts will chemically fuse with your jawbone, providing your restoration with a strong and stable foundation to be attached to. This also prevents jawbone deterioration and keeps your cheeks from looking hollow or saggy over time.
Abutment
The abutment is a small, metal connector piece that is attached to the top portion of your dental implants after they've undergone the process of osseointegration. Once they're attached, you'll need to wait one to two weeks before your dentist can attach the final restoration to your abutments to secure them in place.
Dental Implant
The dental implant is a small, titanium screw that is surgically placed below the gumline and into the jawbone. It acts as a replacement to your missing tooth's natural roots, supplying blood flow and stimulation to the bone structure to keep it from eroding.
Titanium
The reason why many dental implants are made from titanium is because the metal has a biocompatible nature, allowing it to fuse with the jawbone. It also preserves the dental implant by naturally forming a thin oxide layer around it that prevents corrosion when it's integrated with the jaw.
All-on-4/Teeth-in-a-Day
All-on-4 dental implants are just like what they sound like they are—the dentist will place four dental implants in the thickest parts of your jawbone to secure a complete denture to, replacing an entire arch of missing teeth. This method is excellent for patients who have sustained jawbone erosion due to tooth loss, but who don't want to receive a bone graft.
Bone Grafting
Bone grafts are recommended for patients who have experienced bone loss over time. This can keep the dental implant from not being able to fully integrate with the jawbone, leading to implant failure if it's not addressed. During a bone graft, your dentist will take bone from another area of the body and place it in the jaw to support it so you can undergo implant surgery.
With these words in mind during your initial consultation with your dentist, you'll be able to ask thorough questions and grasp a better understanding of how the procedure works. Ultimately, this will help you feel more comfortable moving forward with any decision you make about treatment!
About the Author
Dr. Edward Dooley has decades of experience underneath his belt and is especially passionate about restoring his patients' smiles using dental implants. He regularly takes continued education courses and is a proud Fellow of the International Congress of Oral Implantologists, allowing him to complete the entire dental implant procedure under one convenient roof. For questions or to schedule a consultation, visit Dooley Dental's website or call 732-974-2288.