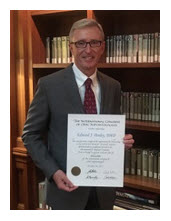 If you're thinking of replacing your missing tooth with a dental implant, it's important to work with a highly skilled practitioner. Your implant restoration is a process and you want to work with trusted providers every step of the way to ensure that you're receiving the highest quality care, which also ensures the success of your dental implant.  If you're looking for dental implants in Spring Lake, we have good news for you! Dr. Edward J. Dooley just achieved his fellowship with The International Congress of Oral Implantologists. This is a highly respected achievement requiring many hours of continuing education, case studies and presentations in the area of dental implants.
What is a Dental Implant?
A dental implant is, by far the best option available to replace one or more missing teeth. This is because an implant not only replaces your tooth; it also replaces your root, which protects the integrity and health of your jawbone. A new biocompatible root is surgically placed in your jawbone, and after an appropriate healing period, your new crown is attached to the root with an abutment.
In the area of dental implants, science and technology has made huge advancements allowing implants to be the most functional and durable option to replace a tooth. Implant crowns are made of high quality porcelain that is custom designed to match your existing teeth and perfectly complement your smile. With the right home care routine and regular dental check ups, dental implants have the potential to last a lifetime.
Who is The International Congress of Oral Implantologists?
Founded in 1972, The ICOI is the world's largest dental implant organization and the world's largest provider of continuing dental implant education. The ICOI works to provide its members and associates with the highest quality education so they can better serve their patients. Their goal is to advance the science and quality of the practice of implant dentistry. To say that the ICOI promotes and expects high standards of personal and professional ethics is truly an understatement. This is why we are so proud of Dr. Dooley and his hard-earned achievement.
At Dooley Dental, Dr. Dooley has been providing high quality dental care and excellent customer service to his patients for over thirty years. As a member of many dental organizations, Dr. Dooley has always continued to learn about dentistry in order to better serve his patients, and he is credited with over 1500 hours of continuing education. When you have treatment done at Dooley Dental, you can rest assured that you are in the hands of a highly skilled expert. If you're considering Spring Lake dental implants, contact our office and schedule a consultation with Dr. Dooley to learn more about how he can help restore your smile.