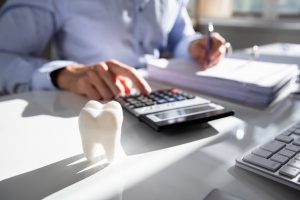 Dental insurance is designed to promote preventive care that helps people avoid oral infections and tooth decay. That is why most dental insurance plans cover two exams and cleanings each year at 100%. When it comes to replacing missing teeth with dental implants, however, insurance coverage is a bit more complicated. Do you want to restore your smile in an affordable way? Keep reading to learn how insurance treats dental implants in Spring Lake and how to make the most of your benefits.
Dental Insurance and Implant Treatment
Dental implants have fast become one of the most popular ways to replace missing teeth. However, many dental insurance plans still do not cover implant treatment, as they consider it a cosmetic procedure. This may sound like bad news, but there is a silver lining. In many cases, patients can still take advantage of their insurance benefits for certain implant-related procedures. For example, preliminary treatments like gum disease therapy or extractions are often covered by insurance. In addition, dental insurance often covers some of the cost of a crown or bridge that attaches to the top of an implant.
When Is the Best Time to Get Dental Implants?
If you want to replace missing teeth without busting your budget, you should consider starting implant treatment soon. If you have already gotten some dental work done this year, you have likely already paid your deductible. This is the amount you have to pay out-of-pocket each year for dental care before your insurance kicks in. If your deductible is already paid, your insurance may cover more of the costs of preliminary treatments related to implants (as long as you have not hit your annual maximum).
Insurance: Use It or Lose It!
One very important detail to keep in mind is the fact that most insurance plans reset at the beginning of each year. That's right, your dental insurance benefits do NOT roll over. If you haven't reached your annual maximum when the clock strikes midnight on New Year's Eve, those unused benefits will return to your insurance company. You pay a monthly insurance premium, so don't let your investment go to waste!
How Can I Learn More About My Coverage?
Want to know if your insurance covers dental implants in Spring Lake? You can start by checking for policy details on your insurance plan's website. If that doesn't work, your insurance provider likely has a toll-free number that you can call to learn more about your coverage.
Finally, don't hesitate to ask your dentist and their team for help. Dental staff are very familiar with the ins and outs of the insurance world and are always happy to assist patients in maximizing their benefits.
About the Author
Dr. Edward Dooley has over three decades of experience helping patients rebuild their smiles with dental implants in Spring Lake. A Fellow of the International Congress of Oral lmplantologists, he is in-network with Delta Dental and Aetna dental insurance. To learn more about how to take advantage of your insurance benefits, visit the Dooley Dental website or call 732-974-2288.