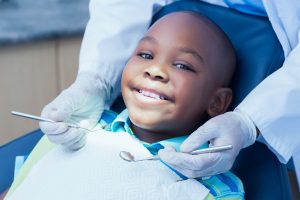 It's back to school season already! Whether your child is chomping at the bit to return to class or they're bemoaning the end of summer vacation, your family is probably very busy as you prepare to send your little one off to resume their formal education. In all the chaos of this time of year, it could be easy to let dental care slip your mind. But it is important to bring your child to their dentist in Spring Lake for a routine checkup so they can start the school year with a healthy, happy smile.
The Importance of Routine Dental Care for Kids
Children should see their dentist about once every six months. These regular cleanings and checkups serve several important purposes:
Your dentist can check for cavities and other oral health issues. If such problems get caught early on, they may be much easier to treat than if you had waited to bring your child in for an exam.
Bot the hygienist and the dentist are treasure troves of information about oral hygiene. They can provide you and your child with advice on how best to care for teeth and gums at home.
If your child plans on playing school sports, their appointment is the perfect time for you to ask about getting a custom mouthguard for them.
Routine appointments help your child adopt a positive view of dentistry and adopt good habits that will last a lifetime.
Make Your Child's Back to School Checkup a Success
Whether your child is an active toddler or a free-thinking preteen, it might be a challenge to get them to the dentist and have the appointment go smoothly. Here are a few tips to make their back to school exam as easy as possible:
Pick the right time. You don't want to make your child feel rushed or make them go to the dentist when they had other activities planned. Be sure to know their routine and ask them about their schedule so you can both be on the same page.
Have a positive attitude. Many kids dread going to the dentist, but you can help to soften their anxiety by speaking positively about oral healthcare.
Plan something fun afterward. As a reward for child's good behavior at the dentist, plan to do something they like after their appointment. You could visit a local park or museum, go out for a special (tooth-friendly) meal, or have a family game night.
The end of summer is the perfect time to bring your child in for their dental checkup! It will help your child return to class with a healthy, confident smile, and it will help you scratch one more thing off your back to school checklist.
About the Author
Dr. Edward Dooley has over 30 years of experience in dentistry. He truly enjoys working with entire families and helping them to achieve and maintain excellent oral health. If you have questions about how to care for your child's smile, or you would like to schedule an appointment with Dr. Dooley, contact our office at 732-974-2288.