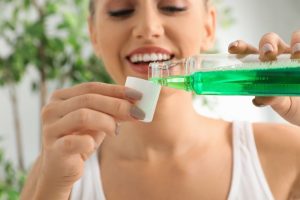 Are you the type of person who is diligent about your six-month dental checkup and cleaning? If so, you are likely paranoid or worried about missing your upcoming appointment because of COVID-19. Before you fall into panic mode, your dentist in Spring Lake wants to remind you of four ways you can maintain your smile during this crazy and uncertain time. By adhering to these tips, you can be sure that your teeth and gums will be in optimal shape until your next dental visit.
Improve Your Brushing Skills
First, you must make sure you're using the right type of toothbrush. It should have an ADA Seal of Acceptance, which identifies the toothbrush as a product that has passed strict guidelines by the American Dental Association (ADA), guaranteeing it will effectively clean your teeth. You should also make sure your toothbrush is the right size and shape, so you will be able to thoroughly clean and reach more difficult areas of your mouth.
However, the most important aspect of brushing is that you do it enough. With all this extra time at home, make sure you're brushing at least twice daily for two full minutes. If necessary, use a timer or stopwatch to help keep track of the time.
Don't Forget to Use Mouthwash
Mouthwash is often the most forgotten aspect of the oral hygiene routine. Flossing and brushing are heavily emphasized, but an ADA-approved mouthwash will ensure anything that is left behind will be flush out. All you need to do is pour 20 ml into a cup and swish it around for 30 seconds. Once you spit it out, you will have minty-fresh breath and a healthier smile.
Avoid Snacking
It's tempting to make the kitchen your most frequented stop each day when all you do is stay at home. Unfortunately, continual snacking can wreak havoc on your smile. If you're busy reaching for crackers, chips, cookies, and candy, expect your dentist to tell you that you need multiple fillings when you arrive at your next visit. If you're going to snack, opt for healthier alternatives like fruits, vegetables, whole grains, or dairy.
Clean Your Toothbrush Regularly
If you're prone to shaking off your toothbrush and throwing it in a drawer after you're done brushing, you might want to rethink those steps. Your brush attracts germs after every use, so placing a cover over it or putting it in a dark, damp location can actually cause more bacteria to breed. As a result, this will enter your mouth the next time you brush your teeth. To avoid this, allow your toothbrush to air dry after you've thoroughly rinsed it.
Stick to the above-mentioned tips and discover how impressed your dentist will be when you come in for your next dental checkup.
About the Author
Dr. Edward J. Dooley believes in the importance of preventive care. Unfortunately, with COVID-19 keeping dental offices closed at this time, patients must be diligent to maintain good oral health while at home. As a dentist in Spring Lake who remains committed to improving his patient's smiles, he and his team are happy to provide tips and recommendations that will work to improve teeth and gums until regularly dental checkups and cleanings can resume. For help in maintaining your smile at home, contact us via our website or by calling (732) 974-2288.