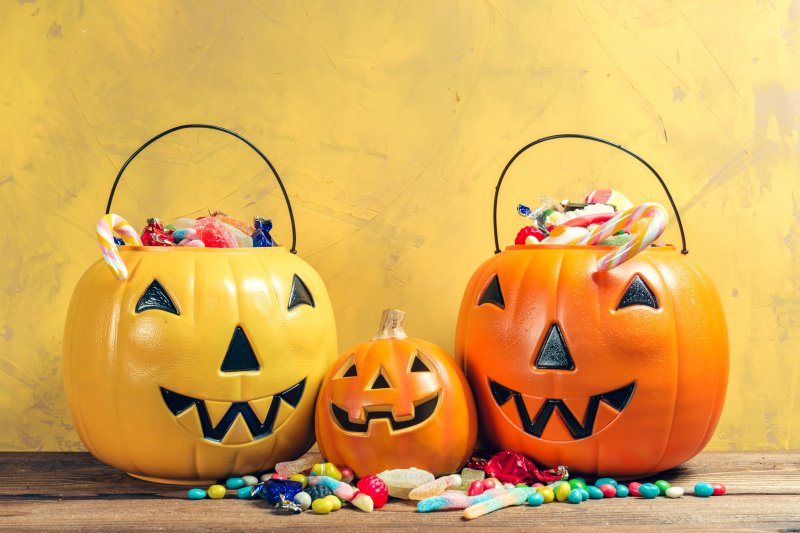 Now that the skeletons and jack-o-lanterns are all about the neighborhood, you know it's that spooky time of the year. With Halloween around the corner, you're likely to collect a chunk of tasty candy this season that may last the winter (hopefully). While these sweet treats may be fun, they can also wreak havoc on your pearly whites. Keep reading to learn a few tips from your dentist in Spring Lake on protecting your smile during the spooky season!
How Does Candy Impact Your Oral Health?
Everyone knows that sugar is detrimental to your smile. Whenever you munch on something sweet, the natural bacteria in your mouth will start to feed on the sugars. This will then produce a harmful acid byproduct that will wear down your enamel, making your teeth vulnerable to future damage and infection. While candy can generally wreak havoc on your oral health, some kinds can do more harm than others. For instance, hard, sticky, gummy, and sour treats are incredibly bad for your smile because they can stay in your mouth for an extended time. The longer your teeth are covered in sugar, the more damage bacteria can do.
3 Essential Tips to Manage Your Halloween Sweet Tooth
Do you typically have an irresistible urge to much on all your favorite candies during Halloween? Here are several ways you can manage your sugar cravings and protect your teeth in the long run:
Plant to limit your stash: Before heading out to trick-or-treat with the family, you should consider implementing a plan to minimize your stockpile of candy. For instance, you and everyone in your household can keep a certain amount of treats while donating the remainder to an organization of your choice. You might even limit the number of houses you and your children visit on Halloween night. Try encouraging them to trade the majority of their candy for other non-candy prizes.
Keep a well-balanced diet: Even if it's Halloween night, you'll need to eat healthy foods that will provide the essential nutrients your body requires. Not only will this benefit your overall health, but these meals will keep you "filled" and from feeling tempted to overindulge in buckets of candy for snacks. Make sure you consume foods consisting of lean protein, fresh fruits and veggies, whole grains, and dairy products each day.
Munch on healthier alternatives: Instead of grabbing the first Halloween candy you find, try reaching for fresh fruit! These foods contain natural sugars but are much healthier than constantly munching on sweet treats. Make sure to also enjoy sugar-free versions of your favorite candy to reduce the risks to your smile.
Are you and your family excited about Halloween? Keep these tips in mind and you should be able to easily manage your sweet tooth while maintaining good oral health!
About the Author
Dr. Edward J. Dooley earned his dental doctorate from the University of Pennsylvania School of Dental Medicine. He's also a proud member of several prestigious groups like the American Dental Association and the Academy of General Dentistry. He provides a wide range of high-quality services, including fluoride treatments, fillings, and gum disease therapy. If you'd like to schedule an appointment, visit his website or call 732-974-2288.