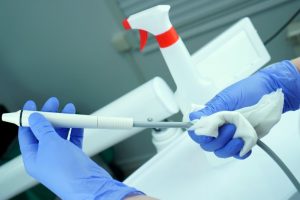 Personal hygiene and general cleanliness are of the utmost importance right now. With the potential spread of COVID-19 remaining a threat, dentists throughout the country are stepping up to exceed normal expectations when it comes to sanitizing and disinfecting their offices. Following various health and safety protocols recommended by the Centers for Disease Control & Prevention (CDC), the American Dental Association (ADA), and the Occupational Safety & Hazard Administration (OSHA), you can feel reassured knowing that your dentist in Wall Township is taking all the right steps to ensure no germs or bacteria are passed from person-to-person. But what are they? Let's find out.
Cleaning 101: How Dentists Are Doing It
Under regular circumstances, dentists are accustomed to maintaining higher than normal standards when it comes to sanitation. Why? Because it's absolutely necessary. If dentist offices were allowed to forgo thorough cleanings, patients would become exposed to harmful pathogens that could cause them to become seriously ill. Dentists must work in close proximity to all patients, each dealing with different oral health problems. Should any of the germs from one individual be transferred to another, the results could be disastrous.
To prevent this from happening, especially during the COVID-19 pandemic, dental teams are abiding by the following guidelines:
Using the additional time provided from spaced out scheduling to disinfect and sanitize all equipment, dental instruments, and surfaces. This means using water to pre-clean before adding a disinfectant approved by the Environmental Protection Agency (EPA). While chairs, overhead light hands, keyboards, and other areas may be covered with plastic, this will allow for an easier cleaning process while remaining thorough.
Using an autoclave to sanitize all reusable instruments. This device uses high-pressure, saturated steam to disinfect these items, removing all germs and bacteria before being used on another patient.
Disposing of gloves, gowns, plastic coverings, and single-use instruments after completing treatment with every patient. This helps to avoid cross-contamination and ensures clean, fresh personal protective equipment is being used with each new visitor.
Laundering all reusable coats and articles of clothing according to CDC procedures. Some dental offices are also requiring that staff change into and out of work attire when arriving as well as before leaving to go home. This is to avoid harmful bacteria from spreading to others outside the office.
What Other Cleanliness Standards is Your Dentist Following?
If you think the points listed above are the only protocols your dentist is following to ensure cleanliness is maintained, you'll be surprised to know additional measures are being taken, including:
Using proper handwashing techniques
Removing all reading materials and self-service beverage machines within the lobby
Providing tissues, masks, and hand sanitizer for visitors
Requiring all patients to perform an antimicrobial rinse before their appointment
Performing a deep clean of the office every evening
Incorporating HEPA-grade filters to the HVAC system to improve air filtration
Because of their commitment to cleanliness and your health, you can feel secure knowing that your dentist's office is one of the cleanest places you can visit right now.
About the Author
Dr. Edward J. Dooley is going the extra mile to properly disinfect and sanitize his dental office to prevent possible contamination or patients becoming exposed to harmful bacteria. His understanding of how important it is to maintain the highest standards of cleanliness is evident by the commitment he and his team are making during this uncertain time. As his doors reopen for regular dental care, you are encouraged to visit the website or call (732) 974-2288 to learn what safety protocols are being followed to keep everyone safe.