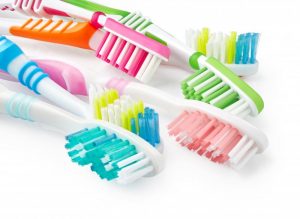 Toothbrushes were first invented in the late 1930s, and back then there weren't really a lot of different options you could choose between. That's certainly not the case nowadays when shopping for a new toothbrush sometimes means figuring out whether or not it'll need batteries. It's important to always have the best tools for the job when it comes to oral hygiene, so here are 3 tips from a dentist in Wall Township to help you make your decision next time!
1. Think About the Softness of the Bristles
For most patients, dental experts will almost always recommend toothbrushes with soft bristles over those with medium or hard bristles. If you brush your teeth too vigorously, or if your pearly whites particularly weak, medium or hard bristles can actually damage the enamel, wearing it down and ultimately leaving you more vulnerable to decay. Thus, unless your dentist tells you differently, look specifically for a soft-bristled toothbrush, particularly ones with rounded bristle tips.
2. Find the Right Size
The head of your toothbrush needs to be the right size so that you can easily reach all of the different surfaces on your teeth. For adults, this usually means a head that's half-an-inch wide and one inch tall; larger heads might be too difficult to maneuver. Also, the handle needs to be long enough so that you're comfortable holding it.
3. Decide if Disposable or Electric Brushes Work Best for You
Manual toothbrushes and electric toothbrushes are both highly effective when it comes to removing plaque, with studies finding that there's usually not a significant difference in performance between the two. (Some studies do suggest, however, that rotation oscillation toothbrushes may be more effective.) You should choose the type of brush you're most comfortable with; some patients find electric toothbrushes easier to use while others are bothered by the vibrations.
In certain circumstances, you might need to pick a certain kind of toothbrush due to health concerns. For example, patients who brush too hard are more likely to be gentler with their teeth if they use an electric toothbrush. On the other hand, some studies find that electric toothbrushes might increase the amount of bacteria in the bloodstream; this usually won't be a problem if your heart and immune system are both in good shape, but for patients with certain cardiovascular conditions, a manual toothbrush is probably the safer option.
If you're still not sure what to look for when shopping for a toothbrush, ask your dentist for advice during your next checkup. They're more familiar with your oral health than anyone else and can make a recommendation based on that knowledge. Remember, it never pays to take chances with your smile; get a toothbrush that you can be confident in!
About the Author
Dr. Edward J. Dooley opened his private practice, Dooley Dental, in 1986 and remains as committed as ever to bringing his patients excellent dental care. He offers thorough cleanings that will protect your smile from plaque and tartar, and he's always happy to give advice on brushing and other forms of oral hygiene. To schedule an appointment, visit his website or call (732) 974-2288.