The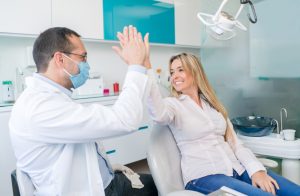 majority of us don't see our oral health to be a priority compared to our overall health. But, in the same breath, you can probably imagine yourself keeping your original adult teeth for the rest of your life, right? Unfortunately, oral health care doesn't work that way. We all have to pay attention to the things we eat and indulge in as well as our oral hygiene to try to keep our smiles healthy. If you want to ensure you maintain good oral health and prevent dental problems, take notes of these dental do's and don'ts from your dentist in Wall Township.
Things You Should DO:
Do brush and floss twice daily! Good oral hygiene starts with brushing and flossing two times a day. Brushing is not limited to your teeth either. You must make sure to brush your entire mouth including your gum line and tongue. Sometimes brushing can miss food particles stuck between teeth, so it is also important to floss to decrease food and plaque buildup.
Do pay attention to what you indulge in! Eating and drinking certain foods can affect your oral health in the long run, deteriorating enamel and darkening your pearly whites. It is also important to monitor the amounts of alcohol and tobacco that you may be consuming not just for your oral health, but your overall health as well.
Do visit your Wall Township dentist every six months! Even with a great oral hygiene routine at home, it is imperative that you visit your dentist regularly to keep up your preventive care. Not only will your mouth feel great and refreshed, but Dr. Dooley will help ward off tooth decay and gum disease.
Things You Should NOT DO:
Don't wait for unbearable pain to schedule a visit! Your oral health should never be overlooked. Maintaining good oral health is vital to keeping up a healthy body. You should visit your dentist at least once every six months to maintain preventive care. Once you see signs of bleeding or feel extreme pain, you most likely already have a severe dental problem.
Don't chew on things that aren't meant to be in your mouth! By chewing on objects rather than food, you're risking chipping or cracking a tooth. Chewing on ice or the tip of your pen may seem harmless, but in reality, you are eroding your teeth.
Don't ignore your dental health because of other health issues! Other things going on with your body may be affecting your dental health. For instance, you may develop a grinding habit (known as bruxism) because of an abnormal amount of stress in your life. It's important to stay on top of that issue before your teeth become dysfunctional from the teeth grinding. Dr. Dooley would be happy to prescribe a nightguard to protect your teeth.
Abiding by these simple do's and don'ts will hopefully help you maintain a healthy smile for years to come. Remember that prevention is much more productive—and less expensive—than a dental procedure needed from an emergency. Maintaining good oral health is vital to maintaining a healthy body. If you would like to book in for a check-up or have a dental issue you need addressed, please don't hesitate to contact Dooley Dental.