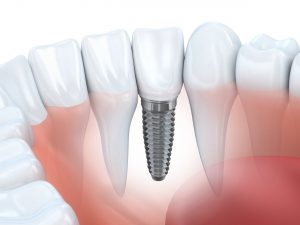 If you are researching ways to replace your missing teeth, you have probably heard a lot about dental implants. According to the American Dental Association, over 5 million dental implants are placed each year in the United States. One of the most popular ways to restore a smile, today's implants are often made from extremely durable titanium. However, that hasn't always been the case! Let's explore how dental implants have evolved over the years to benefit you today.
Ancient Dental Implants
Even though modern dental implants have been around for decades, more primitive versions have existed for a lot longer. In fact, archeological evidence shows that ancient Mayans embedded seashell fragments and carved stones into their jaws to replace missing teeth as far back as A.D. 600! In some instances, these early implants even fused to the bone.  
Key Discovery in Implant History
In the 1950s, a Swedish orthopedic surgeon made an important discovery that set the foundation for modern dental implants. Dr. Per-Ingvar Branemark was studying the healing process in rabbits when he implanted a tiny titanium object into a rabbit's bone. Later, Dr. Branemark realized he could not remove the titanium object because it had fused with the surrounding bone. The discovery that titanium is naturally biocompatible later led to experiments with humans to replace missing teeth. Today, "osseointegration" ("osseo" – bone: "integration" – joining with) is the key process that enables implants to so effectively replace missing tooth roots and support dental restorations.
Advances in Implant Knowledge
Over the last 40 years, scientists have learned a lot more about how to improve the dental implant process. For example, early dental implants had a smooth surface. However, we now know that bone likes to grow against a roughened surface. For this reason, today's implants have grooves like a tiny screw. These grooves help speed up the osseointegration process, which allows patients to achieve a complete smile faster.  
Dental Implants Today
Implant treatment has certainly come a long way since the age of the Mayan civilization. Today's implants, typically made from titanium or zirconia, have an extremely high success rate of approximately 95%. Compared to traditional restorations such as bridges or dentures, dental implants have a range of advantages, such as:
Maximum Support – By replacing the missing tooth root structure, dental implants provide outstanding support for artificial teeth and never slip or shift.
Natural Appearance – Implants are custom-designed in shape and color to blend in with a person's natural smile.
Prevent Bones Loss – Implants stimulate the jawbone, preventing bone deterioration that can make a person appear older.
Long-Lasting Results – With proper care, dental implants can easily last for decades!
Now that you know about the history of dental implants, it's time to think about the future of your smile! The best way to find out if you could benefit from implant treatment is to schedule an initial consultation with your dentist.
About the Author
Dr. Edward Dooley has over 30 years of experience helping patients rebuild their smiles with dental implants. A Fellow of the International Congress of Oral lmplantologists, he can perform the entire implant process at his private practice in Spring Lake. To learn more about implant treatment, visit the Dooley Dental website or call 732-974-2288.