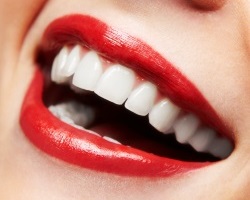 You are pleased with the results of your professional teeth whitening in Wall Township. Gone are the dark stains and overall dull appearance of your tooth enamel. Your smile looks amazing, and you feel younger and more outgoing. How can you keep your teeth bright and sparkling? Find out from Dr. Edward Dooley.
Why Teeth Stain
What we put in our mouths discolors tooth enamel, particularly if it's darkly pigmented food or drinks such as red wine, sports drinks, coffee, black tea, blueberries, chocolate, soy sauce or anything with deep color. Acidic foods soften enamel and contribute to discoloration when consumed with dark foods or drinks. Cigarette smoke, prescription medications, such as tetracycline, and the aging process yellow smiles as well.
Stains from food, drinks and tobacco are called extrinsic stains, and they are easily treated. Accumulated plaque and tartar on tooth surfaces and interdental spaces hold stains. While daily brushing, flossing and hygienic cleanings with Dr. Dooley help keep smiles bright, they may not achieve that dazzling look.
Teeth Whitening Near Wall Township
At Dooley Dental, the professional team offers two kinds of teeth whitening: in-office and at-home. Both are effective in lifting out staining materials from tooth enamel and leaving teeth feeling and looking their best.
After an oral examination to ensure teeth and gums are healthy enough for in-office whitening, the hygienist cleans the patient's teeth and swabs on the gel. Soft tissues of the mouth are protected by a thin rubber dam.
As the gel seeps into tooth enamel, the patient relaxes in the dental chair. In less than an hour, whitening is complete, the gel rinsed off, and teeth are brighter by several shades.
For people who would like to whiten their teeth at home, Dr. Dooley creates customized whitening trays which apply the gel and brighten teeth more gradually over the course of several days. Results are just as dazzling as the in-office version.
Whitening works for older teens and adults who do not have untreated cavities, gum disease, or multiple restorations. Pregnant and lactating women should postpone whitening.
Keeping Those Whitened Teeth White
While tooth and gum sensitivity can happen, it resolves quickly. Dr. Dooley tells patients to limit staining food and beverage choices and to avoid tobacco completely. He advises:
Daily flossing with the product of your choice
Twice a day brushing with fluoride toothpaste and a soft brush
Six-month hygienic cleanings and check-ups at Dooley Dental
Eight glasses of water daily (64 ounces) to rinse tooth surfaces and increase saliva and its antibacterial enzymes
Getting occasional whitening touch-ups as needed
With just a little work, your smile will remain bright and shining indefinitely. Combined with porcelain veneers/Lumineers, composite resin bonding, tooth-colored fillings and other aesthetic treatments, you can achieve the smile of your dreams by partnering with Dr. Dooley and his team.
Your Best Smile
Dr. Edward Dooley can help you achieve it. For a complete cosmetic dentistry consult, contact Dooley Dental. The friendly team will guide you through the best dental services for your healthiest and brightest smile ever.