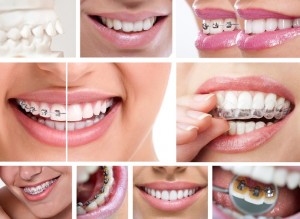 For years, you have wanted a straighter smile, but the more years that go by, the more reluctant you are. How will your co-workers react to your mouthful of metal braces? Dr. Edward Dooley offers adults (and teens) just like you orthodontic options such as Invisalign aligners in his Wall Township office. There are many paths to a better looking and more attractive set of teeth without the hassle and embarrassment of traditional braces.
What Are Your Options?
Just like you, many people have minor to moderate problems with bite and tooth alignment. Standing in the way of  beautiful smile aesthetics and good oral health (crooked teeth are more prone to decay and gum disease) are:
Tipped teeth
Rotated teeth
Underbite
Overbite
Crossbite
Open bite
Overjet (protruding front teeth)
Gaps
Overcrowding
Additionally, many older teens and adults find that while they wore braces as a child, their mature smiles have shifted, changing the aesthetics, alignment and bite.
As a member of the International Association for Orthodontics, Dr. Dooley recognizes this prevalent oral health need and offers several options to qualified patients. No, they don't involve metal or ceramic braces with their dietary restrictions, oral discomforts, complex adjustments and lengthy treatment times.
If qualified by oral examination and digital imaging, Dr. Dooley can offer Invisalign, ClearCorrect or MTM clear aligners or PowerProx 6-month Adult Orthodontics. Faster and definitely more discreet than traditional methods of straightening smiles, these braces in Wall Township change teeth for the better quickly and easily.
How They Work
Invisalign. MTM and ClearCorrect clear aligners offer patients  new smiles in about a year. BPA-free appliances which resemble teeth whitening trays snap snugly over top and bottom teeth, moving them into better positions. Amazingly discreet, the aligner pairs are changed out every two weeks or so and are:
Comfortable
Easily cleaned
Removable for meals, oral hygiene and special events
Custom-made in special labs according to Dr. Dooley's instructions
Surprisingly affordable
MTM aligners are similar to ClearCorrect and Invisalign in design and function. MTM stands for "Minimal Tooth Movement." These aligners are very affordable, fast and gentle, and the results are amazing.
All aligner systems work best when completed with a retainer. These customized appliances keep newly straightened smiless perfect indefinitely.
Finally, Dr. Dooley features PowerProx 6-Month Adult Orthodontics. These clear brackets and wires use very low vector forces to move teeth. Lower pressure gently challenges the periodontal ligament (the connective tissue between the tooth and the alveolar ridge on the jaw bone)  to reposition a crooked tooth effectively and quickly–in fact, two to three times faster than other kinds of braces or aligners.
Explore Your Options
Contact Dooley Dental today to set-up an orthodontic consultation. Dr. Dooley will discuss your options with you. Together you will arrive at the way to give you the best smile possible.