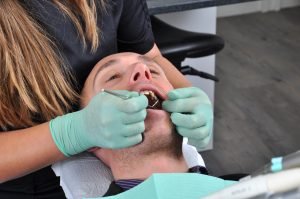 April is oral cancer awareness month, and according to the Oral Cancer Foundation, receiving regular screenings for this disease is the best way to reduce the numbers of oral cancer related deaths each year. What better way to celebrate oral cancer awareness month than to schedule an oral cancer screening with a skilled dentist. This simple, safe, comfortable screening may just save your life!

How are Oral Cancer Screenings Performed?
Oral cancer screenings are so comfortable you may not even notice one has occurred. In most cases, the screening takes just a few minutes. Your dentist will simply visually and manually examine your smile looking for warning signs of oral cancer, including:
Changes to the color of soft tissue
Changes to the texture of soft tissue
Lumps or bumps in the soft tissue
Sores in the soft tissue that do not heal
Difficulty swallowing or chronic hoarse voice
Swelling or inflammation in the lymph nodes
In addition to this examination, your dentist may also ask a number of questions that will better determine whether or not you're suffering from oral cancers that do not have obvious visual clues. Some of the things the dentist will want to know about include sore throat, hoarseness and other changes in voice, and bad tastes in the mouth.
Benefits of Oral Cancer Screening
One person dies every hour in the US from oral cancer. Only 50% of those who are diagnosed with oral cancer this year will live five years beyond their diagnosis. According to researchers, earlier diagnosis is the key to reducing the number of annual oral cancer-related deaths. The key to early diagnosis? Regular screenings. By visiting a trusted dentist who offers oral cancer screenings every six months, you are dramatically increasing your chances of receiving oral cancer diagnosis in the earliest, most treatable stages.
Meet Dr. Dooley
Edward J. Dooley, DMD, FICOI is a dedicated preventive and cosmetic dentist offering a wide range of dentistry services for Dooley Dental patients in Spring Lake. Dr. Dooley uses the state-of-the-art VELScope scanner tool to increase the efficacy of his oral cancer screenings. This unique light technology allows Dr. Dooley to more accurately assess potentially cancerous tissues in the earliest stages. If you want to learn more about oral cancer screening or any of our other dental care services, please don't hesitate to call Dooley Dental to schedule a dental checkup in our comfortable Spring Lake dentistry practice.