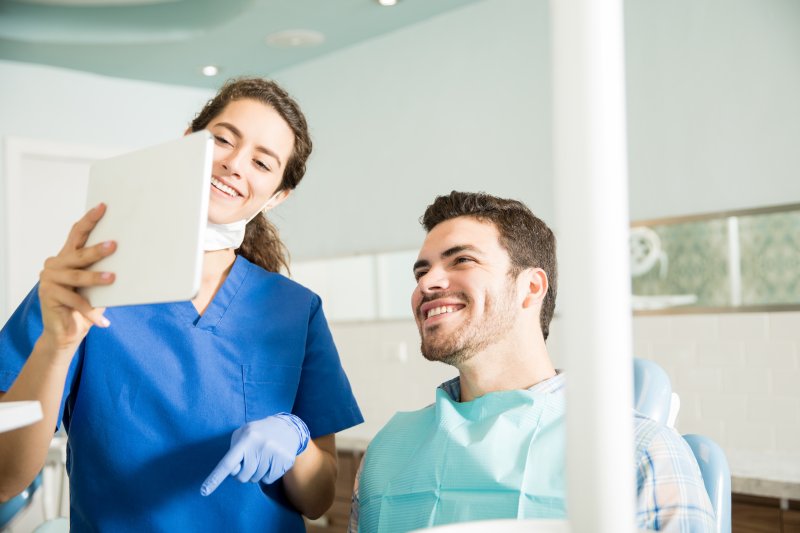 At your routine appointments, do you typically sit quietly in the treatment chair and move onto the next thing on your to-do list as soon as you are dismissed? If you answered "yes," then you may be missing out on some valuable ways to improve your oral health! Instead of being a passive participant, you should use your bi-yearly visits to keep an open dialogue with your dentist in Spring Lake about how you can keep your teeth and gums in tip-top shape. Unsure where to start? Here are five questions to help!
How Does My Overall Oral Health Look?
Unfortunately, many patients view their routine appointments as simply a quick check for cavities. However, even if your teeth are free of decay, your dentist can provide other substantial insights into your overall oral health. For example, they may notice some wear and tear from teeth clenching or warning signs of an impacted wisdom tooth that will need attention in the future. The feedback they provide can help protect your smile in and out of the treatment chair.
How Often Should I Schedule My Routine Dental Appointments?
According to the American Dental Association, you should visit your dentist every six months for a routine checkup and professional cleaning. However, your dental team may recommend a more frequent schedule if early signs of gum disease necessitate additional cleanings, you are interested in scheduling a consultation for straightening your teeth, or want to speak with your dentist one-on-one about tooth replacement options.
Did You Notice Any Symptoms I Should Notify My Doctor About?
Did you know 90% of health conditions have oral symptoms? Therefore, your dentist can play a crucial role in the early detection of non-dental concerns as well. If they notice symptoms linked to diabetes, osteoporosis, GERD, HIV, or heart disease, then your primary care physician needs to be notified immediately.
What Are Your Payment and Financing Options?
It's no secret that dental care can be expensive, especially if you don't have insurance. And while the price tag should never get in the way of receiving the treatment you need, it often does. Fortunately, many practices accept extended payment plans through CareCredit or Lending Club, which make larger bills manageable.
Should I Change My Diet in Any Way?
Brushing and flossing regularly does wonders for keeping your teeth and gums in pristine condition. However, your diet plays an equally important role in the condition of your oral health. If your dentist notices signs of decay, but your dental hygiene regimen is consistent, then they may recommend limiting sugary foods. On the other hand, significant discoloration may lead them to advise cutting back on your coffee intake.
With the above questions in your arsenal, you can ensure that you are prepared for your upcoming appointment. That way, you can be an active participant in keeping your teeth and gums in pristine condition!
About the Author
For over three decades, Dr. Edward J. Dooley has helped countless patients in Spring Lake achieve impeccable oral health and gorgeous smiles. Outside the office, he has completed over 1,500 continuing education credit hours and advanced training on soft tissue lasers, DURAthin laminate veneers, and Straightwire Comprehensive orthodontics (to name a few!). If you are overdue for your bi-yearly appointment, don't hesitate to visit his website or give him a call at 732-974-2288.