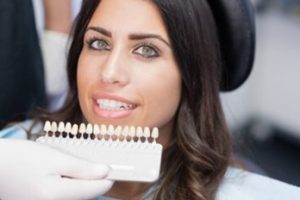 According to the American Academy of Cosmetic Dentistry, the need for cosmetic dental work has actually doubled within the last five years, meaning more people than ever before are opting to enhance their pearly whites with cosmetic dentistry! And among all of the various treatment options that are readily available, porcelain veneers are one of the most widely desired due to the incredible benefits they have to offer. But if you're still on the fence about whether or not to receive veneers, here are four things that you should know before going into the process.
1. Veneers Cover Up Most Aesthetic Flaws
Porcelain veneers are an incredible option for masking minor aesthetic flaws in your teeth, and there are quite a few things they can address! Your dentist will bond thin sheets of dental porcelain to the outer surfaces of the affected teeth, instantly improving their appearance. They can correct a wide range of issues including but not limited to chipped or cracked teeth, staining and discoloration, gaps between teeth, and more. But for serious problems like severely damaged or missing teeth, veneers aren't effective since they need a suitable surface to be bonded to.
2. They Can Address One or Multiple Teeth
One handy thing about veneers is their ability to treat any number of teeth. The freedom to pick and choose which teeth need treatment isn't always an option when it comes to cosmetic dentistry, but with veneers, it's encouraged! If you only have a single tooth that needs attention, one veneer will do the trick. On the other hand, if you have an entire row of teeth that is in dire need of a makeover, you can receive a whole row of veneers that will completely transform your smile.
3. The Process Takes a Bit of Time
Although the veneers process is relatively straightforward, placing them can still take several hours or even a second appointment. Your dentist must first prepare the affected teeth by removing a tiny amount of enamel (about 5mm or less) from their outer surface so the veneers can be properly bonded. Your dentist must also take impressions of your mouth so the veneers can be customized to fit inside. Finally, the veneers must also be measured and precisely adjusted before they're permanently placed on your teeth. However, when you compare this treatment process to some of the other options that can sometimes take weeks or months to complete, the timetable isn't lengthy.
4. Veneers Require Minimal Extra Maintenance
Fortunately, porcelain veneers don't require any additional specialized care; you simply need to brush and clean them as you would your natural teeth! This will greatly help to preserve their integrity so that you can hopefully get at least 10 or so years out of them.
If you're curious about receiving veneers to enhance your teeth, talk with your dentist to see if it's a viable option for you; knowing what to expect will only make the process go more smoothly.
About the Practice
The team at Dooley Dental is honored to serve patients and families in the Spring Lake, NJ area under the leadership of Dr. Edward J. Dooley. Dr. Dooley received his dental doctorate from the University of Pennsylvania School of Dental Medicine and has several years of experience in a wide range of fields. His practice is proud to offer many available services including porcelain veneers. If you would like to arrange an appointment, you can contact Dr. Dooley's practice online or over the phone: (732) 974-2288.