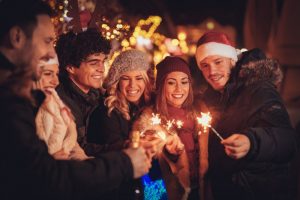 The holidays are just around the corner, which means that drinks will be flowing with treats aplenty. There's nothing better than this season of cheer and festivities, but all the sugary sweets that come with this time can be detrimental to your oral health. Thankfully, your dentist in Wall Township has some useful tips to keep your smile healthy while still enjoying happy holidays!
Watch What You Eat
Peppermint mochas, caramel, toffee, and pies are just some of the many treats that seem to be everywhere during the holidays. While sweets are enticing, their sugar content can increase your risk of problems like tooth decay and gum disease. That said, be especially wary of extra sticky or hard candies that stay in contact with your smile for longer periods of time.
Instead of sugary treats, at your next holiday party, head straight for the cheese and fruit plate. Cheese has calcium that promotes dental health, and fruits like apples naturally scrub away lingering plaque and bacteria.
Drink Water
During the holidays, water is your best friend! Most tap water contains fluoride, which is a naturally occurring, cavity fighting mineral! Water also helps wash away sugary sweets and liquids that coat your teeth. Even making a quick pitstop to the bathroom to swish your mouth with water can reduce your risk of cavities and tooth discoloration.
Pack Your Travel Kit
Tis the season for lots of travel and business. For this reason, many people can forget to bring their oral healthcare gear when they're on-the-go. Nowadays, travel-sized toothpaste, floss, mouthwash, and toothbrushes are accessible and available, making it easier than ever to take care of your teeth when you're on the move. You can even bring products like floss picks to your holiday parties for easy and discreet food debris removal.
See Your Dentist
Once the holidays have died down, it's always a good idea to visit your dentist for a routine checkup and cleaning. During this appointment, your hygienist can remove any hard to reach plaque that has collected over time. They can also give you some at-home care tips for your specific smile. But more importantly, your dentist will examine your mouth to prevent and detect any issues before they become more expensive and extensive. That way, you'll have the confidence of knowing you made it through the holiday with cavity-free teeth and healthy gums.
Are you ready to take on the holidays with a smile? Use these tips to enjoy the festivities without putting your oral health at risk!
Meet the Dentist
Dr. Edward J. Dooley is an experienced dentist who has a passion for caring for his Wall Township patients. He always sees an uptick in problems like tooth decay around this time of year, which is why he wants you to know the best ways to keep your smile safe. For any questions, he can be reached through his website or by phone at (732) 974-2288.