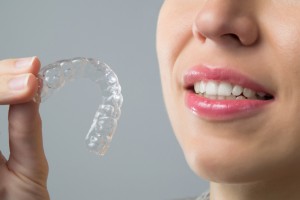 Your crooked smile impacts your oral health and self-confidence, too. Pursue fast, comfortable and effective orthodontic correction with Invisalign clear aligners from Wall Township cosmetic dentist, Dr. Edward J. Dooley.
How Invisalign Differs
Invisalign differs from traditional metal wire and bracket braces. Very appealing is Invisalign's less than obvious appearance. Instead of sporting a "metal mouth" look, Dr. Dooley's Invisalign patients wear clear, BPA-free acrylic aligners to straighten their teeth.
Resembling professional teeth whitening trays, Invisalign appliances are custom-made according to Dr. Dooley's specific treatment plan and fit tightly over top and bottom teeth. Numbering 18 to 30 in all, depending on the complexity of the case, the aligners gradually move teeth into healthier and better-looking positions in as little as a year. Average treatment time for traditional braces is 2 to 2-1/2 years.
Additionally, Invisalign aligners require no complex adjustments at Dooley Dental. Patients simply come into the office every 4 to 6 weeks for fast progress checks and to receive their next aligner pairs.
Perhaps best of all is the system's versatility and ease of use. Invisalign clear aligners handle everything but the most complex of orthodontic issues, including:
Cross bite
Open bite
Underbite
Overbite
Overjet (protruding front teeth)
Gaps
Crowding
Tooth rotation
Changes in occlusion and alignment after previous orthodontic treatment
With these problems corrected, smiles look great, and patients enjoy  improved self-image. Plus, teeth are less prone to decay, and gums stay much healthier.  A well-aligned bite means fewer headaches, ear pain, TMJ dysfunction and uneven wear on tooth enamel.
In addition, Invisalign aligners are so easy to use. They are fully removable for meals, picture taking and special events such as job interviews, proms and weddings.  There are virtually no dietary restrictions as patients remove their aligners to enjoy their healthy meals and snacks. Daily oral hygiene is easy because patients brush and floss normally. There are no wires or brackets to accumulate food residues and plaque or to cause sore spots that can plague orthodontic patients.
Your orthodontic evaluation
Your Wall Township cosmetic dentist, Dr. Edward J. Dooley, is your best resource for Invisalign evaluation which includes a complete oral examination, digital x-rays and other sophisticated imaging. You and Dr. Dooley will discuss your treatment goals, and he may even preview your finished smile for you!
Then, Dr. Dooley's  instructions go to the Invisalign lab where a special technician crafts the aligner pairs. After treatment is completed, the same lab can fabricate a Vivera retainer to keep your new smile well-aligned for life.
Look good, feel great and be healthy
Invisalign clear aligners from Wall Township dentist, Dr. Edward Dooley, may help you achieve all 3. Please contact the office staff today to arrange your orthodontic consultation. Ask about our new patient specials, too!