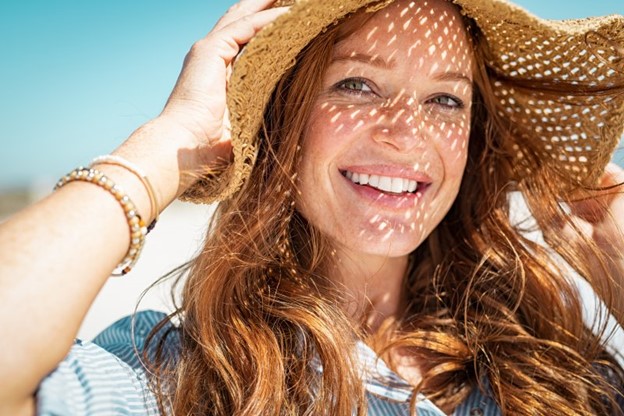 If you're unhappy with your smile's appearance, don't fret! Your situation isn't hopeless, and summertime is the perfect time to seek cosmetic treatment and do something about the status of your smile! That said, your cosmetic dentist in Spring Lake offers several available treatments that are sure to make your smile whiter and brighter for the summer season. Keep reading to learn more about three of them.
Teeth Whitening
Do you have stained teeth that make you reluctant to smile or even laugh? Many patients are disgruntled with their discolored smiles, but fortunately, teeth whitening offers an effective solution with impressively beautiful results. Your dentist has access to special tools and equipment that are more effective than anything you can buy at the store. Using these professional-grade whitening agents, they can safely polish your teeth in a matter of minutes, effectively removing any visible staining. They can also send you home with a kit containing powerful whitening gels and custom-made trays that'll allow you to whiten on your own schedule. Both methods are effective and provide results that are fully visible within a week or two. Better yet, these results can last for anywhere from six months to three years if you take good care of your teeth!
Cosmetic Dental Bonding
Sometimes your teeth can become chipped, cracked, or suffer other minor injuries. Though they're small, these flaws can often make a huge noticeable difference in how your smile looks. But luckily, cosmetic dental bonding (also called direct bonding) is an easy away to address these issues. Your dentist will use a small amount of composite resin and mold it to the tooth to mask any small imperfections. After being hardened under a curing light, the process is complete, and your new and improved smile is ready to go! Direct bonding can easily last for 10 years with proper oral hygiene.
Porcelain Veneers
If it feels like your smile needs a little more than whitening or some minor flaws addressed, you might want to consider porcelain veneers. This option can provide you with a Hollywood-caliber smile that'll blow you and those around you away! They can be used to address fractured teeth, gaps between teeth, discoloration, and more—and they can be used on one or multiple teeth, too! Your dentist will bond small, thin sheets of dental-porcelain to your teeth's outer surfaces, instantly improving their appearance. They can last for 10 – 20 years with proper oral care, meaning that your beautiful new smile is around for the long run if you take care of it.
Summertime is meant to be enjoyed, and while you're laughing, smiling, and having a blast, you should want your smile to look its absolute best. Talk with your dentist if you're interested in receiving cosmetic treatment this summer.
About the Author
Dr. Edward J. Dooley proudly serves patients and families in the Spring Lake area! Dr. Dooley received his dental doctorate from the University of Pennsylvania School of Dental Medicine and is a Fellow of the International Congress of Oral Implantologists! His practice is pleased to offer several available services including cosmetic dentistry! If you have any questions for Dr. Dooley or would like to schedule a visit, feel free to reach out through his website or by phone: (732) 974-2288.