Dental Team – Spring Lake, NJ
Compassionate, Intuitive Patient Advocates
The members of the Dooley Dental staff are always thinking about their patients' needs before anything else. They focus on providing excellent service and maintaining a friendly, comfortable dental environment for every visit. You'll also find that they're very knowledgeable and will go out of their way to answer your questions during your visit. The brief biographies below can serve as a brief introduction to our staff before you call for an appointment.
Carrie,
Front Desk Administration
Carrie has been a part of the dental field for over 15 years now, with nearly half of that time spent right here at Dooley Dental. She loves working with such an incredible doctor and team who all strive to provide the best care experience possible! Seeing patients overcome their fear of the dentist's office and finally enjoy their smile again is always so rewarding for her.
Audra,
Registered Dental Hygienist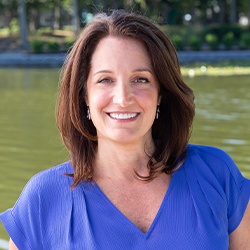 Play Video
Audra has been working in the world of dentistry for nearly 35 years, and she's proud to say that she works for the most dedicated, skilled, and compassionate dentist ever! The best part of her job by far is that it feels like home. The amazing team members and wonderful patients all feel like family, and she makes it her mission to treat every new visitor with compassion and respect.
Audra and her husband Eddie have a daughter, Kayla and a son, Matthew. Outside of working hours, she enjoys swimming, riding bikes, taking walks along the beautiful Jersey Shore, and trying new recipes in the kitchen with her family. Most Saturdays, you can find them cheering on Matthew at the football field and basketball court. She's also always working on arts and crafts and loves putting together unique gifts to show others how special they are to her!
Kathleen,
Registered Dental Assistant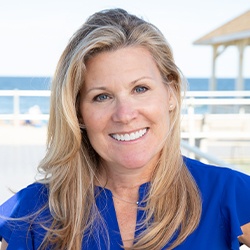 For Kathleen, the best part about being a dental assistant is getting to provide specific treatments for each unique patient so that their needs are met. She loves that Dooley Dental is a very progressive office that uses only the finest materials for an outstanding care experience! Her career in the dental world spans a full decade so far.
Monika,
Registered Dental Assistant
Monika has been working in dentistry for well over a decade so far. She loves that her job allows her to help patients in need feel comfortable and relaxed. Earning their trust is important to her, and she always goes the extra mile to accomplish that!
At home, Monika's family includes her hardworking husband Tim, their smart and funny daughter Martina, and their loyal Golden Retriever Ginger. As a group, they enjoy being outdoors, walking, exploring, gardening, and discovering new places in their RV. As for personal hobbies, she always looks forward to cooking, gardening, watching Martina ride her horse Apache, and more than anything else, making long lasting memories.