Dental Implants – Spring Lake, NJ
Permanent Roots for New Teeth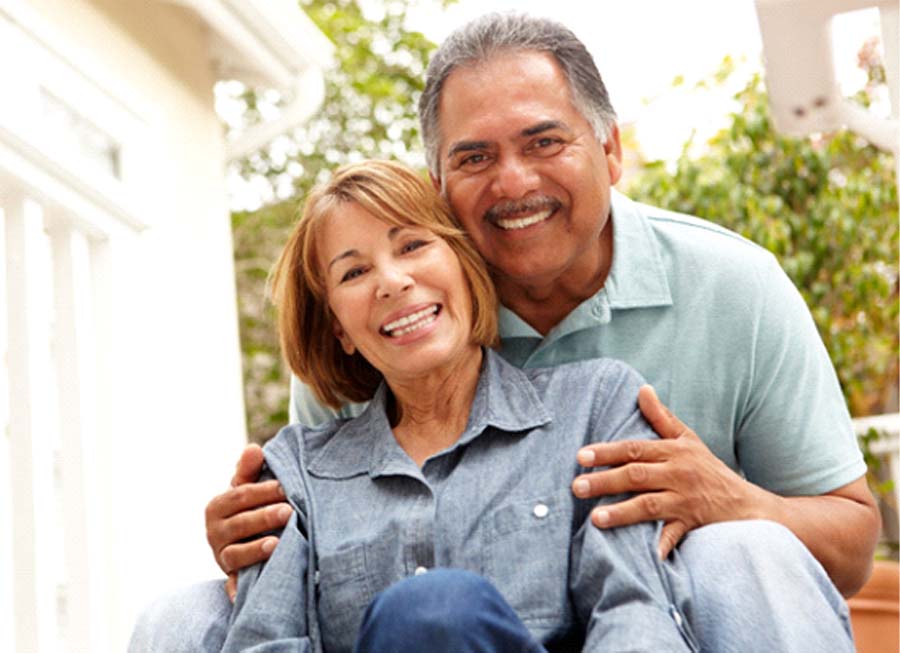 No matter how many teeth you are missing, you need to find a replacement promptly to prevent the negative effects of tooth loss. For eligible candidates, there is no better replacement method than dental implants in Wall Township. This option from one of the area's leading implant dentists, Dr. Edward Dooley, provides a long-lasting solution for one, two, or many missing teeth. Dental implants from our Spring Lake, NJ dentist look, act, and feel just like your natural teeth! Keep reading to learn about dental implants at Dooley Dental, then request a free consultation with your trusted dentist -- for a superior tooth replacement.
Why Choose Dooley Dental for Dental Implants?
State-of-the-Art Dental Technology
Entire Procedure Completed In-House
Implant-Retained Dentures Available
What are Dental Implants?
A dental implant looks like a small screw and is made out of titanium or another biocompatible substance. It's inserted directly into the jawbone where a missing tooth used to be. It then fuses with the bone and is treated like part of your body. When that happens, it can be used to support a crown, a bridge, or dentures. In other words, the implant serves as the "root" upon which your new tooth or teeth will rest.
What Are the Parts of a Dental Implant?
A traditional dental implant is actually made up of three parts. There's the titanium implant itself, the visible crown or denture, and a connecting abutment that holds the two together. The dental implant is surgically implanted beneath the gum line and allowed to heal together with the jawbone. Once that process is complete, the gum is opened again and the connecting abutment is placed. After another brief healing period, the dental implant is restored with the prosthetic tooth that is affixed on top.
The 4-Step Dental Implant Process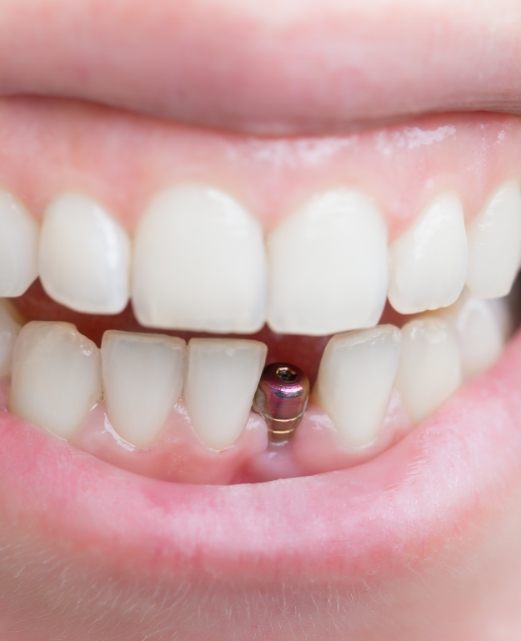 Anyone undergoing treatment with dental implants can expect a two-phase process. The first phase involves oral surgery completed by a trusted surgeon. During your surgery, a dental implant is placed in the socket of the missing tooth. A dental implant is a small, titanium screw that acts as an artificial tooth root. The total number of implants you receive depends on the number of teeth we're replacing and the treatment plan that is best for you.
Once your implant has been placed, a healing period follows. During this time, the jawbone and gums fuse with the implant to create a strong, stable foundation for your new dental prosthetic. This process, which is known as osseointegration, contributes to the stable, realistic-looking results you can expect from dental implants.
After a period of three to six months, you'll return to Dooley Dental for the second phase of your implant procedure which culminates in the attachment of your custom-made dental prosthetic.
Benefits of Dental Implants
Versatile: We can replace one, several, or all of your teeth with dental implants.
Stability: You'll be able to eat anything you want with implant posts that have strength and stability on par with real teeth.
No Bone Loss: You don't have to worry about bone resorption; your implants will encourage the jaw to create new bone.
Longevity: Once your dental implant is in place, you won't have to worry about replacing it for a very long time – possibly not for the rest of your life!
Why Choose Dental Implants? Why are the Right for Me?
While there are more options in tooth replacement than ever before, dental implants offer without a doubt the most effective solution currently available. Nothing else replaces your missing tooth as well as its stabilizing root, a system that mimics the natural tooth structure so closely patients can resume chewing, speaking, and smiling with complete confidence. Of the numerous benefits of dental implants, some of the most commonly cited include:
Stabilize the jawbone for continued oral health
Closely mimic the structure of the natural teeth
Can correct dental misalignments or prior cosmetic issues
Support a variety of prosthetics
Restored ability to speak without lisps or whistles
Patients can eat what they like, even corn on the cob or biting into fresh apples
Do not affect remaining natural teeth
Can last a lifetime with proper care
But isn't a bridge or traditional denture just as good and twice as fast as dental implants? Not really. While they are fine options in tooth replacement and certainly effective for patients who cannot undergo the traditional dental implant procedure, these non-implant-retained options do not provide the stimulation the jawbone needs to thrive. Without it, important nutrients are sent elsewhere, and the jaw slowly diminishes in volume. More tooth loss is likely to occur alongside the sunken, shriveled look we associate with older age. For continued oral and overall health that sticks around for a lifetime to come, dental implants offer unsurpassed
Who Dental Implants Can Help
Almost anyone can get dental implants. Even people who have suffered from bone loss may still be eligible after a bone graft. At our dental office, bone grafting can be performed at the time of any extractions that need to be performed to make room for the tooth. Once existing oral health issues has been taken care of, the implant surgery can be planned. The implant procedure differs quite a bit depending on the number of teeth missing. You have a number of options for your tooth replacement with dental implants. The one that is best for you depends on how many teeth you are missing and where in the mouth they are located. Dental implants can support anywhere from a single crown to a full denture in the upper or lower jaw.
Missing Single Tooth
For just one missing tooth, a single crown can restore a dental implant placed anywhere in the jaw. The post can be placed straight into the jawbone without making changes to the surrounding teeth. This makes a single implant a more conservative alternative to a traditional dental bridge, allowing you to preserve your natural smile.
Missing Multiple Teeth
There are different ways to replace multiple teeth at once with implants. Were all the lost teeth in a row? Replace multiple missing teeth with the prosthetic teeth (the bridge) cemented directly over the dental implants. You can get a bridge supported by two dental implants. Were they in different parts of the mouth? Look into getting an implant-retained partial. Is an entire row of teeth gone? A denture supported by 4 to 6 implants could be your best bet.
Missing All of Your Teeth
A full or partial set of dentures that you can remove for cleaning and before you sleep at night. Snap on dentures support the prosthetic with two to four dental implants; bar retained over dentures support dentures with a bar over the dental implants.
All-on-4/ Teeth in a Day
Dentures that cannot be removed for cleaning. All-on-4 dentures (also known as Teeth in a Day) can secure a loose existing denture and may be completed in just one day.
Process for Dental Implants
If traditional dental implants are the best option for your tooth replacement, you can expect the procedure to take place in two major phases, usually completed over the course of four to eight months. People who have lived for months or years with one or more missing teeth have probably already experienced significant jawbone loss and may need to undergo a bone augmentation procedure to make more room for the dental implants. Bone grafting or sinus lift create the right environment for dental implants, but they usually add months to the total treatment time.
Start to Finish in One Location
Dr. Dooley can complete the entire process for your new dental implants, from implantation to final restoration, from the comfort of the Dooley Dental office. Implantation involves the strategic placement of each dental implant beneath the gum line. Dr. Dooley uses precise surgical guides to ensure the dental implant is located just where it should be. Over the course of several months, each dental implant grows together with the jaw bone in the process known as osseointegration. This recovery period is crucial for functional dental implants. You may wear a temporary tooth replacement during the recovery period.
After Dental Implant Placement
After osseointegration is complete and your dental implants are completely sturdy in your jaw, you return to Dooley Dental for the final restoration. Dr. Dooley will expose each dental implant and attach the abutment. You will undergo another brief healing period, then come back to our dental office. We will affix your new teeth, and your smile is complete!
A Skilled Implant Dentist in Spring Lake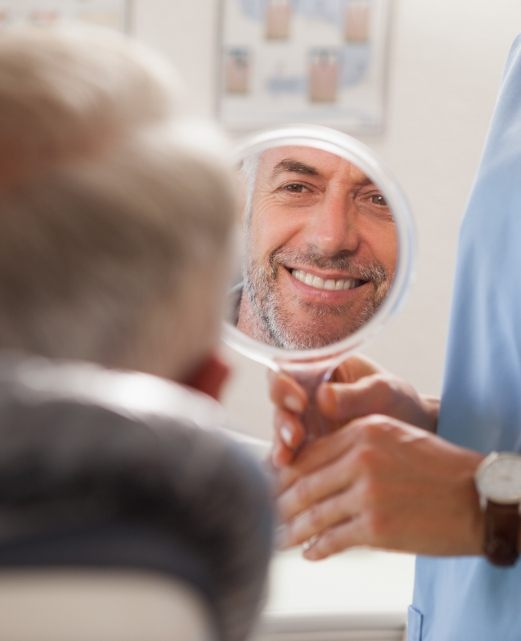 Your search for the best dentist to perform your dental implant care is important, and we advise you not to take the decision lightly. You need a qualified, experienced implant dentist in Wall Township, which means you should strongly consider Dr. Dooley and his team of experts to get the job done right the very first time. Dr. Dooley has undergone extensive training in dental implants and has been recognized for his outstanding care. Dr. Dooley is a Fellow of the International Congress for Oral Implantologists -- a special distinction that speaks to the level of care he provides in implant dentistry.
Dr. Dooley and the Dooley Dental team always use the latest technology and methods to ensure our patients receive the best, most comfortable implant care possible. Patients with dental implants in Wall Township know Dooley Dental is a local leader in tooth replacement.
Keeping You Comfortable During Dental Implant Surgery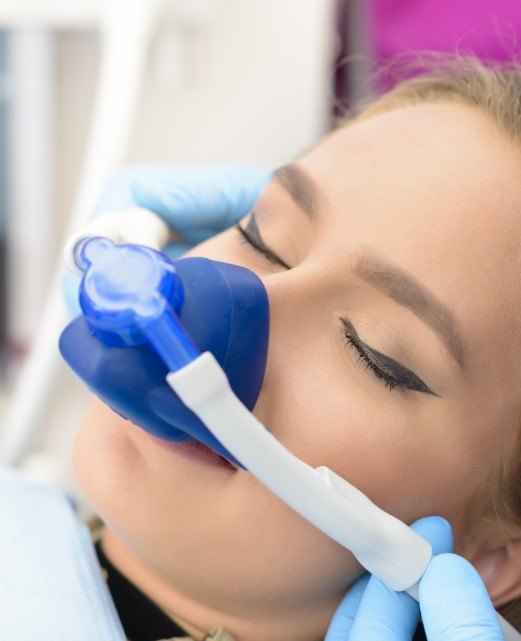 During your dental implant procedure, Dr. Dooley and our team will make every effort to keep you relaxed and comfortable. We use the most precise anesthetic and sedation options available to ensure that you don't feel a thing throughout the procedure. We start with local anesthesia to remove all sensation from the treatment area, and we can also supplement local anesthesia with light sedation to help relax your nerves a little bit, too. Please get in touch with us to discuss anesthesia and sedation for dental implant procedures.
Dr. Edward Dooley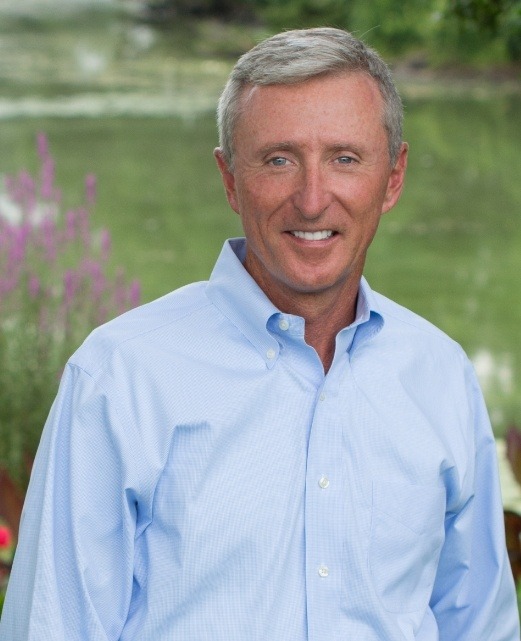 Dr. Edward Dooley is a New Jersey native, and has been running his own private practice since 1986. After receiving his dental degree from the University of Pennsylvania's School of Dental Medicine, he went on to serve as a Dental Officer in the Navy from 1982-1985. Despite his wealth of experience, Dr. Dooley has logged over 1500 hours of continuing education, and continues to learn from top dental professionals around the world so he can better serve his patients every day. His true goal is to give each one of his patients a healthy, beautiful smile they can be proud of.
Dental Implant Maintenance
Dental implants can last for a lifetime with proper maintenance. While not too common, dental implant failure can occur even after initial success due to a condition known as peri-implantitis. It is caused by the buildup of plaque and bacteria around the dental implants. Peri-implantitis can be avoided with proper dental hygiene. If you have a removable denture, make sure you clean it properly daily. Clean around your implant abutments as directed to prevent the buildup of harmful biofilm. For fixed prosthetics, brush and floss regularly, and use an interdental cleaner or waterpik for thorough plaque removal.
Understanding the Cost of Dental Implants
When looking up prices for dental implants online, you'll likely find that the numbers vary significantly. The simple truth is that the price of dental implants is not set in stone; depending on your situation and your needs, the cost of your dental implants can change significantly. Dr. Dooley and the rest of our team will outline the financial aspect of the dental implant process for you so that you aren't caught off guard later down the road.
Learn About the Cost of Dental Implants
Are You a Candidate for Dental Implants?
95% of dental implant procedures are successful, but it is important that patients are healthy enough to undergo a surgical procedure before we can begin. Your implant dentist will consider your oral and overall health to determine whether or not you are eligible for dental implants. Patients who have diseases affecting the immune system -- like advanced-stage cancer or uncontrolled diabetes -- may not be able to heal properly. Severe cases of gum disease also affect a patient's ability to undergo the procedure for dental implants.
The only way to know for sure whether you are a candidate for dental implants is to get in touch with your implant dentist at Dooley Dental.
Request a Free Consultation Today!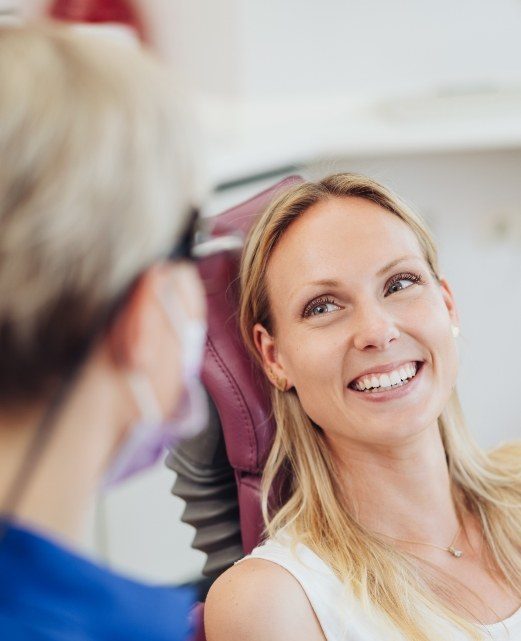 If you are missing one or more teeth, you can't afford to wait to have those gaps filled. Left unreplaced, missing teeth result in diminished jawbone structure and may lead to even more missing teeth later. Don't hesitate to get in touch with your implant dentist -- we offer free consultations for dental implants! Let's determine if you are a candidate for dental implants today.
Dental Implant FAQs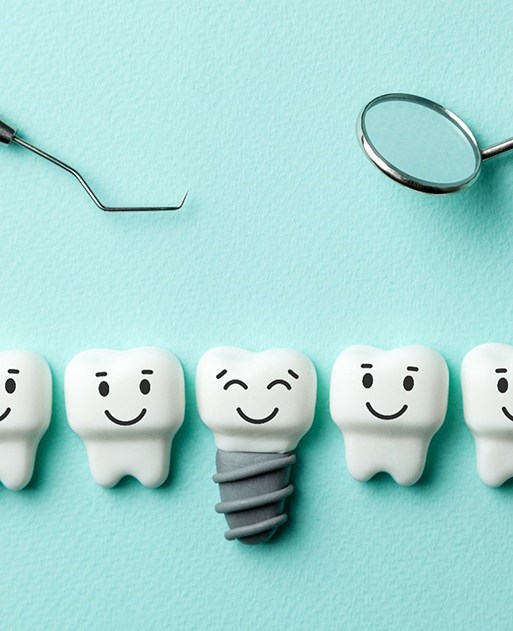 Dental implants are an excellent tooth replacement option with amazing benefits that you can't find anywhere else. However, you may still have some unanswered questions. Here are the answers to some of the most common inquiries we receive about dental implants in Spring Lake. If you don't see the information that you're looking for below, don't worry! Just give us a call, and we'd be happy to answer your questions and schedule you for an initial consultation.
How Long Do Dental Implants Last?
The lifespan of dental implants depends on the patient's health and lifestyle choices. To ensure that implants last, it's important to brush, floss, and rinse with mouthwash on a daily basis. Attending dental cleanings and checkups is also crucial to maintaining to health of your dental implants. When cared for properly, implants can last upwards of 30 years. This is several times longer than traditional bridges and dentures.
Does Getting Dental Implants Hurt?
Your mouth will be numbed with a local anesthetic before the procedure begins. You will also most likely be sedated, lowering your body's ability to register pain. While the surgery shouldn't be painful, your mouth may be sore for a few days afterwards. Any discomfort can be managed by taking over-the-counter and prescription medication as directed. Cold compresses are also effective at managing pain. If your discomfort worsens instead of improving after three days, give us a call!
How Long Does It Take to Recover from Dental Implant Surgery?
It can take up to six months for your implants to completely fuse with your jawbone, but you should be able to resume your normal activities the day after surgery. Avoid strenuous exercise for the first week or so, as this can delay the healing process. Bleeding should stop after the first couple of days, and swelling should subside after three to four days. Take all prescribed and over-the-counter pain relievers as directed.
Can I Get Dental Implants If I'm Diabetic?
If your diabetes is under control, your odds of dental implant success are comparable to those of nondiabetic patients. Uncontrolled diabetes and chronic high blood sugar can slow down the healing process and make it more difficult for your implants to integrate with your jawbone. If you're looking to replace your missing teeth with dental implants, talk to your endocrinologist or primary care physician about getting your blood sugar levels under control beforehand.
Do Dental Implants Feel Natural?
Once dental implants are placed in the jawbone and completely heal, they will feel just like natural teeth would. The implants themselves don't have any nerve endings, so all sensations you feel in the area will come from the gum tissue surrounding the implant.