Cosmetic Dentistry – Spring Lake, NJ
Bringing Out the Best in Your Smile
Most people don't realize it, but a smile is often the first thing people notice about you. Sometimes, we find that patients need an extra boost to reach the level of beauty they desire. To make a great first impression, turn to Dooley Dental! Cosmetic dentistry from our Spring Lake, NJ dentist can be a successful way to renovate your look. If you're interested in receiving cosmetic dental care from Dr. Dooley and his team, contact us today.
Why Choose Dooley Dental for Cosmetic Dentistry?
Beautiful Metal-Free
Crowns
Quick Yet Effective
Bonding
Advanced GLO® Teeth
Whitening
Porcelain Veneers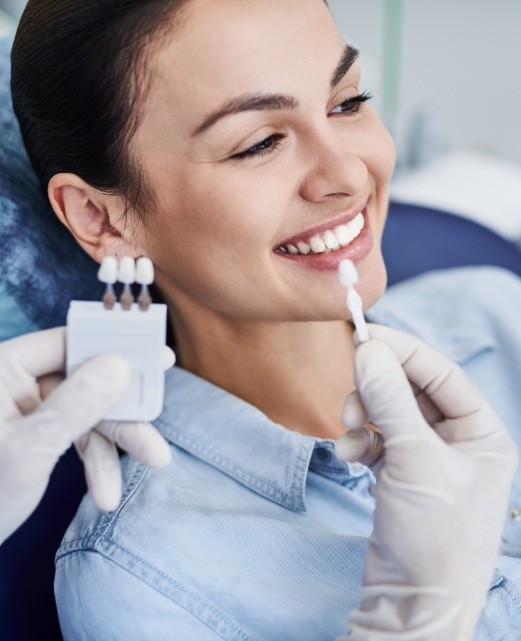 What do you see when you look in the mirror? Do you see a lot of stains, chips, cracks, gaps, or rotated teeth? When multiple flaws are visible in your mouth, it can be hard to know where to start, but thanks to porcelain veneers, you can take care of all of them at once! Thin porcelain coverings bond with the front of your teeth to hide all of the imperfections that make you feel self-conscious about your smile. In some cases we might recommend ceramic veneers. You can get a dramatic smile makeover with just one treatment.
Learn More About Porcelain Veneers
Metal-Free Dental Crowns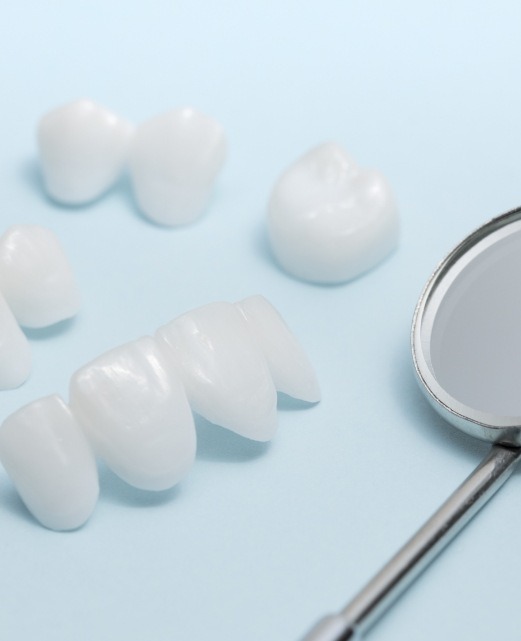 When choosing a dental crown, it's important that it be made out of strong, durable materials that will let the tooth function normally, but that doesn't mean you can't think about aesthetics as well. With our metal-free ceramic crowns, you can repair your tooth with a restoration that looks just like your natural teeth – even in the way it reflects light. Our crowns are carefully designed to seamlessly blend in so that the casual observer will think they're just part of your mouth.
Cosmetic Dental Bonding
Like veneers, cosmetic bonding can be used to correct many different cosmetic flaws. Instead of a porcelain shell, a small amount of composite resin is applied to the tooth in order to cover up chips, cracks, small gaps, discoloration, and other imperfections. Compared to porcelain veneers, cosmetic bonding is much faster, as it can be completed in just one visit. We typically recommend it to patients who have a few small improvements that they want to make.
GLO® Teeth Whitening
Our dental office uses GLO teeth-whitening to help dull smiles shine brighter. A whitening gel is applied to the teeth, and then a special light is shined on it to activate the bleaching ingredients. Said ingredients are capable of removing stains beneath the surface of the enamel, thus getting rid of discoloration that store-bought whitening products wouldn't even be able to touch. The GLO whitening system has a take-home version as well as an in-office treatment.
Learn More About Teeth Whitening
Gum Recontouring
Your gums shouldn't really stand out whenever you smile. If you are having trouble with an uneven gum line or excessive gum tissue that makes your teeth look shorter than they should, talk to us about having gum recontouring done in the near future. We can check your smile and remove any unneeded tissue to reshape the gums so that they're more aesthetically pleasing. This process can be painlessly performed with a state-of-the-art dental laser.
Trial Smile
Are you not sure whether you're ready to commit to veneers, crowns, or other cosmetic dental work? We can use small amounts of composite resin to mimic the effects of these treatments so that you have an idea of what your smile will look like once the real restoration is in place. You can get a firsthand look at what your teeth could look like in the future, thus helping you set realistic expectations so that you can make an informed decision.
ClearCorrect Clear Aligners
Do you have alignment troubles like underbite, overbite, or crossbite? All of these dental irregularities can be corrected with orthodontic procedures like ClearCorrect. Straightening your smile can also prevent a myriad of other problems, like gum disease. Don't hesitate to ask our friendly team about orthodontics for your needs!
Transformative Results
One of America's most popular cosmetic dentistry treatments is teeth whitening. Luckily for the local population and residents of surrounding New Jersey areas, Dooley Dental offers take-home whitening kits that dramatically remove stains from smiles and lighten teeth overall. Ask the team at Dooley Dental if teeth whitening is right for you.