Dentures – Spring Lake, NJ
Discover What Has Been Missing
Throughout life, you had never expected to suffer from tooth loss, but now you find yourself living with the daily complications of missing teeth. Not only did you lose your confidence along with them, but your ability to chew many of your favorite foods and the ability to speak clearly. To regain a complete smile, you have considered dentures in Spring Lake, NJ in the past; however, they have a bad reputation for looking fake. Now, several advancements in dentistry allow them to look more natural than ever before, allowing you to treat your tooth loss. With dentures or partials, you will fill the empty space to restore your confidence and quality of life.
Why Choose Dooley Dental for Dentures?
In-House
Procedures
Sturdy, Reliable Implant Dentures
State-of-the-Art Dental Equipment
Stop the Complications of Tooth Loss
Every tooth in your mouth serves an important role in your oral health and functions. When even one is missing, you can develop nutritional deficiencies because you may have to limit the foods you eat because they are too difficult to chew. Not to mention, you can find yourself hiding your smile because you now feel insecure about your appearance.
Unfortunately, the complications of untreated tooth loss are far greater. It also negatively impacts your oral health. With the health of your teeth and gums directly linked to your general health, untreated tooth loss can also lead to certain medical conditions, like cardiovascular disease that results from gum disease.
To protect your oral and overall health, we have the solutions you need to regain a complete smile.
Partial Dentures
Partial dentures in Spring Lake are used when several teeth are missing in a row. They are a removable device that features prosthetic teeth that are attached to a gum-colored base. They often have a metal framework that attaches to your remaining natural teeth to hold it in place. Using impressions and 3D imaging, it will be created to match your exact specifications to blend in seamlessly with your remaining teeth.
Full Dentures
When all your teeth are missing on the top or bottom arch, you will need a full denture. Using impressions of your mouth, a custom-made arch is developed, which holds the prosthetic teeth. Using suction or an adhesive, the denture is held to your gum tissue to restore your ability to speak, chew, and smile with confidence.
Now, several advancements have been made to enhance the comfort and appearance of dentures. They will look natural, so you do not need to feel insecure about your new appearance.
Protect Your New Smile
Dentures are an affordable and convenient solution to invest in your quality of life while living with tooth loss. With the right care, they can last for several years. Although they are not subject to decay, you still need to maintain your oral hygiene habits and clean your partials or dentures daily. In addition, it is best to visit your dentist regularly for cleanings and checkups. At this time, they may also adjust the devices to help ensure their comfort, fit, and function.
Complete Your Smile Today!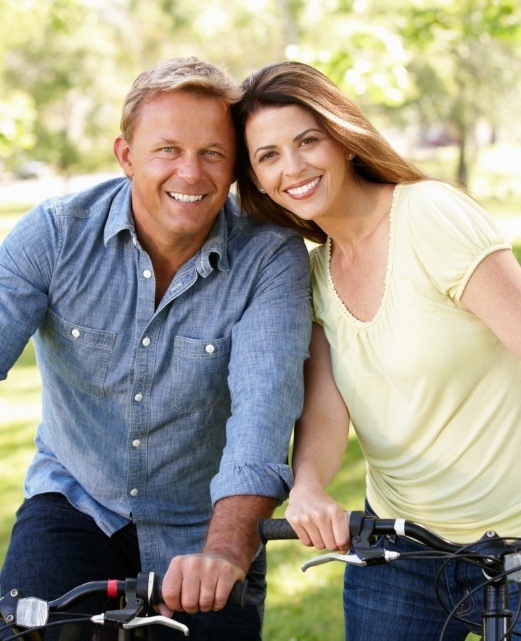 If you are ready to stop living with the challenges of tooth loss, it is time to see if partials or dentures are right for you. Contact Dooley Dental today to schedule your consultation for a new smile.