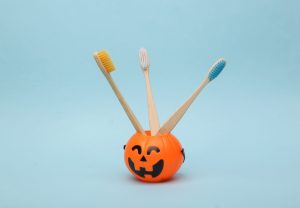 Halloween is here, and that means spooky scares and lots of sweets! After a long night of trick-or-treating, though, many parents worry about their children's dental health. Even if you've had them brush and floss their teeth regularly, there's still a chance the extra sugar could result in a cavity. Fortunately, there are a few things you can do as a parent to help your child avoid an emergency visit to your dentist. Keep reading to learn 4 tips to help keep their smile healthy if they plan to participate in the festivities.
Tip #1: Choose Sweets Selectively
Some foods are known to be more harmful to your little one's teeth than others. For example, hard candies can chip or crack them if they bite down too hard. Chewy candies, meanwhile, are infamous for yanking out fillings. These also take longer to dissolve than some other possibilities, like chocolate. Chocolate melts quickly which reduces the exposure to bacteria-attracting sugar. Dark chocolate can even provide antioxidants for a health boost!
Tip #2: Eat Goodies with Meals
If you're looking for ways to ration your child's candy stash, try doling out a few pieces for them to savor after meals. When they eat, they'll produce more saliva which flushes food particles and unwanted germs out of their mouth. Having their goodies afterward allows this natural defense to get rid of the sugar more quickly.
Tip #3: Donate Extra Candy
Often your child will gather too many treats to even be able to eat them all anytime soon, which means you'll end up with a candy bag stashed in your home. Keeping it around only encourages you and your family to nibble on it over time. Instead, have everyone pick out their favorites and then donate the rest to charity. They'll still experience all the fun of the holiday while practicing generosity. Not to mention once it's gone, there are fewer opportunities for cavities.
Tip #4: Setup a Routine
If you don't already have a daily dental hygiene routine in place, now is a good time to start one. Your child needs to learn the importance of brushing and flossing their teeth twice a day. Each brushing session should last 2 minutes. This ensures that they are regularly clearing away plaque and bacteria that can lead to tooth decay or gum disease. You can use fluoride toothpaste to strengthen their enamel for additional protection.
Now you know how your family can enjoy all the treats this Halloween while avoiding a dental trick!
About the Author
Dr. Edward J. Dooley has almost four decades of experience in enhancing patients' dental health. He and his dedicated team provide a full range of services using advanced tools and technology. Your whole family is sure to be comfortable with our compassionate service and amenities. If you'd like to schedule a checkup, you're welcome to request an appointment on the website or by calling (732) 974-2288.