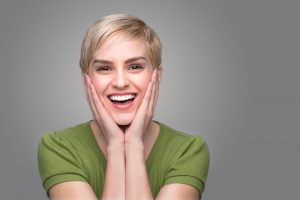 In today's image-focused world, nearly everyone wants a prettier smile. However, some people are reluctant to invest in a cosmetic treatment for their teeth since they see it only as a change in appearance. But did you know that a beautiful smile can impact your mental wellbeing, your social life, and even your oral health? Read on as your cosmetic dentist in Spring Lake explains how fixing up your teeth can improve more than just your smile.
The Benefits of a Beautiful Smile
Cosmetic dentistry can erase the chips, cracks, stains, and metal fillings in your teeth that you always notice, but the results reach far beyond your appearance. A beautiful smile could improve your:
Mental wellbeing: A smile that looks good feels good as well. You'll naturally start to smile after enhancing your teeth, which sets off a chemical reaction in your brain. The more you smile, the more often you'll trigger the release of dopamine and serotonin, which creates feelings of happiness, positivity, and motivation.
Social life: When you love your smile, it shows—literally! Flashing those pearly whites more often can change how others see you. In numerous studies, researchers found that people generally view those with a pretty smile as younger, healthier, and more attractive. A better smile can even make you look more confident and trustworthy, which could help your professional perception as well.
Oral health: Solving a variety of cosmetic issues can simultaneously promote better health. For instance, straightening your teeth makes them easier to clean, which reduces your risk of tooth decay and gum disease. Or, you can strengthen chipped or cracked teeth with porcelain veneers. In fact, studies suggest that boosting your smile's appearance encourages better at-home oral hygiene!
How to Transform Your Smile
Whether you have stained, chipped, or crooked teeth, there are a variety of options that can help:
Teeth whitening: If you have yellowish teeth or a noticeable stain, professional teeth whitening can revitalize your smile with dazzling results. What's more, an at-home whitening kit from your dentist can give you amazing results from the comfort of your own home!
Tooth-colored fillings: Are you self-conscious about your gleaming metal filling? You can easily and comfortably have it replaced with a tooth-colored resin that blends right into your smile.
Porcelain veneers: These thin, tooth-shaped shells of beautiful dental porcelain can be permanently attached to the front of your teeth to completely change their shape, size, and color.
Invisalign and ClearCorrect: Clear braces are a great option for adults and teens who want a healthier, straighter smile without the noticeable and restrictive metal wires and brackets of traditional braces. Thanks to these clear aligners, you can smile confidently as your teeth are gently pushed into place.
So what's holding you back from enjoying all the benefits of a beautiful smile? Your dentist in Spring Lake can help you choose the cosmetic treatment that's right for you.
About the Author
Our goal at Dooley Dental is to help you achieve optimum oral health alongside a beautiful smile. That's why Dr. Edward J. Dooley is proud to offer a wide range of cosmetic services that can improve your appearance as well as your oral health. To help his patients get the smile they've always wanted, he has completed more than 1,500 hours of continuing education in the newest advancements in cosmetic treatments. He'd be happy to help you pick the service that's right for your unique smile, so feel free to contact him via his website or at (732) 974-2288.