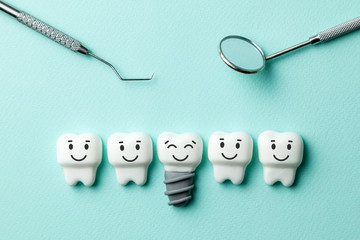 Are you missing teeth? You certainly aren't alone. Approximately 178 million Americans are missing at least one tooth while 40 million are missing all of their teeth. The good news is that you don't need to settle for gaps in your smile. There are several tooth replacement options out there that can help to restore your smile to health, like dental implants in Spring Lake. In fact, they have over a 95% success rate. Continue reading to learn a few reasons why dental implants are so successful!
Keeps Your Jawbone Strong
When you are missing teeth, the jawbone is no longer being stimulated by regular chewing, so it will ultimately begin to deteriorate over time causing a variety of problems. This can cause people to have sunken-in cheeks and wrinkled lips, adding up to 10 years to their appearance! Dental implants are the only tooth replacement option out there that replace the root of the missing teeth, therefore allowing for jawbone stimulation. In the end, they prevent bone loss and restore up to 90% of your chewing ability.
Fuses to the Jawbone
After your dental implants are placed, they fuse to the jawbone in a process called, 'osseointegration.' This process secures the implant and ultimately makes it a part of your body. This is why it is so important to allow for the implant to heal properly. You don't want a dental implant failure on your hands.
Better for Your Other Teeth
If you have a gap in your smile due to a missing tooth, your surrounding teeth won't just stay put. They will attempt to shift around in order to fill in this extra space in your smile. This means that your other teeth will move around and can even loosen, leading to additional tooth loss. When you replace the missing tooth with an implant, you are preventing misalignment issues. This way, your teeth stay just where they belong.
Expertise and Experience
When you choose an implant dentist with lots of experience and expertise, this only makes it more likely that your implants will last well into the future. Implants need to be placed precisely into an area where there is enough bone tissue to support it. This requires careful planning an extensive knowledge so the procedure can be a success. When choosing an implant dentist, check into their years of experience, additional training, and the types of professional organizations that they are a part of.
With so many benefits, like a high success rate, it is no wonder why dental implants are so popular. Ask your dentist if you would make a good candidate for the procedure. You will be showing off your restored smile with pride in no time!
About the Author
Dr. Edward J. Dooley is an experienced dentist who has been working in the dental field for more than three decades. After earning his Doctor of Dental Medicine, he went on to serve his country by working as a Dental Officer in the Navy from 1982 to 1985. He is a Fellow of the International Congress of Oral Implantologists and a member of numerous other professional organizations, including the American Dental Association and the New Jersey Dental Association. To learn more about dental implants or to schedule a consultation, visit his website or call (732) 974-2288.