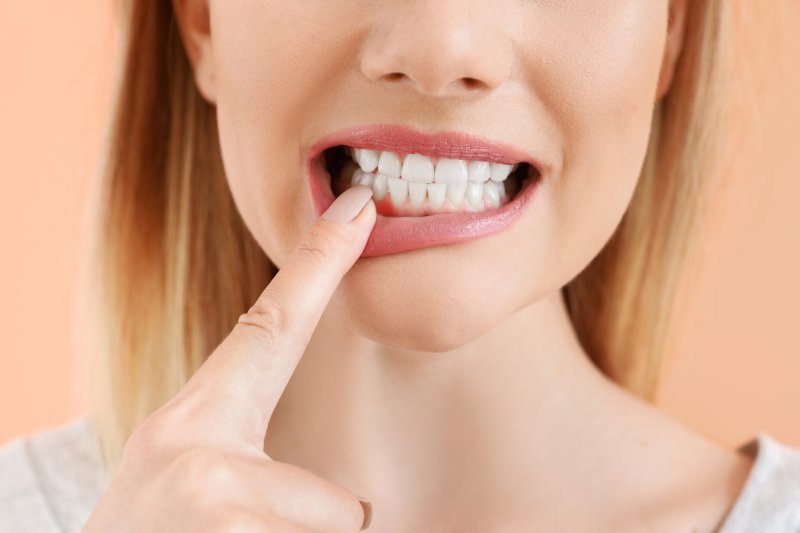 Let's talk about gum disease. According to the American Dental Association, it is currently the leading cause of tooth loss in Americans and 42% of U.S. adults have periodontitis – an advanced form of this prevalent dental concern. Since this condition is largely preventable, there is no time like the present to focus on the health of your teeth and gums. Unsure where to start? Here are six tips from a dentist in Spring Lake.
#1. Floss Daily
Did you know that over 30% of Americans never floss? This is especially alarming since brushing alone only cleans about 60% of your teeth. To effectively remove plaque, food particles, and bacteria from the crevices in your mouth, you must floss daily!
#2. Visit Your Dentist Every Six Months for a Cleaning
Try as we may to keep our teeth and gums perfectly clean, plaque can build up and turn into tartar. Fortunately, your dental team can help! The tools they use during your professional cleaning can easily remove these substances and clean underneath the gumline. (Not to mention it's a great opportunity for them to catch dental concerns while they are small and provide you feedback on how you can improve your dental hygiene routine!).
#3. Quit Poor Dental Habits
From smoking to nail-biting and opening things with your teeth, poor dental habits can quickly wreak havoc on your gums. To start, tobacco products can inhibit your mouth's ability to heal properly, leaving your gums especially vulnerable to disease. Additionally, behaviors like biting your nails and opening items with your mouth introduce harmful bacteria to your teeth and gums. So, if you partake in any of these bad behaviors, there is no time like the present to quit!
#4. Brush Twice a Day
To prevent your morning breakfast or evening meal from clinging to your teeth, it is of the utmost importance that you brush your teeth for two minutes twice a day. Use a soft-bristled toothbrush to effectively clean your teeth without irritating your gums, and always use a toothpaste with fluoride.
#5. Use Mouthwash Regularly
Mouthwash can do more than just give you minty-fresh breath. In fact, decades of research have shown that regular use can prevent plaque build-up and gingivitis! Just make sure to use an ADA-approved brand and follow the instructions on the label to help keep your gums in tip-top shape.
#6. Always Clean Your Tongue
Your tongue takes up a large amount of real estate in your mouth – so make sure to clean it! Simply use a toothbrush or tongue scraper to gently clean your tongue from back to front. Otherwise, you can accidentally ingest the filmy substance.
Gum disease is a rampant condition that can lead to everything from tooth loss to serious health concerns like heart disease. Fortunately, you can do your part to prevent it by using the above tips to keep your gums healthy!
About the Author
Since graduating from the University of Pennsylvania's School of Dental Medicine with his Doctor of Dental Medicine, Dr. Edward J. Dooley has spent the last 30+ years helping patients achieve pristine oral health. Today, he has completed over 1,500 hours of continuing education, is a Fellow of the International Congress of Oral Implantologists, and is an active member of multiple dental organizations (including the American Dental Association). If you are worried about gum disease or are overdue for your bi-yearly appointment, visit his website or give him a call at 732-974-2288.