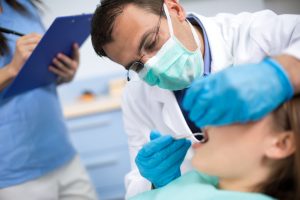 Times have changed. Since the start of the COVID-19 pandemic, life as we know it has been completely retrofitted to accommodate social distancing guidelines and infection control. Although these two measures have played an instrumental role in flattening the curve, we must stay vigilant in the fight against spreading the virus. Therefore, your dentist in Spring Lake is taking extensive measures to ensure that you can come in for your routine, cosmetic, and emergency dental procedures in a safe environment. Here is how they are preparing for your upcoming appointment:
Designated Safety Champion
Since exposure to blood and saliva is a routine occurrence for dentists and their staff, it is of the utmost importance that proper infection control protocol is part of their day-to-day operations. In addition to extensive training for the entire staff, each day one team member will be assigned as the designated safety champion. In this role, they will be responsible for answering questions from patients, ensuring social distancing, and monitoring the cleanliness of the office.
New Staff Protocol
Even before COVID-19, dentists, hygienists, assistants, and office staff were all held to a very high standard regarding infection control. However, those measures have been amplified and now include:
Daily temperature checks.
Additional personal protective equipment (i.e., face shields, disposable coats, etc.).
New personal hygiene standards (i.e. short fingernails, hair must be worn back, etc.).
No jewelry or watches.
Change out of work clothes before leaving the office.
Social Distancing Best Practices
Although keeping a 6-foot distance between you and your dentist is next to impossible, social distancing guidelines are being put in place in nearly every other area of the office. At your next visit you can expect:
Virtual waiting rooms that allow you to stay in your car until heading straight into the treatment room.
Physical waiting rooms that have spaced out seating and no communal activities (i.e. magazines, toy chests, etc.).
Sequenced patient scheduling to limit foot traffic in and out of the office.
Expanded patient appointments to limit the number of trips you make to the dentist.
Virtual follow-up visits from the comfort of your own home.
Extensive Sanitation Policies
Since the start of the pandemic, each of us has been bombarded with new research and information almost daily (if not hourly!). However, one thing that hasn't changed is the Centers for Disease Control and Prevention's firm stance on the importance of proper, frequent handwashing. To limit the spread of bacteria and viruses, the following will be included at your next dental visit:
Hospital-grade hand sanitizing stations throughout the office.
Thorough cleanings between each appointment.
Deep cleanings every evening.
HEPA Air Filtration systems.
While some of these measures can seem exhaustive, dental teams are more than happy to implement them to give patients peace of mind. With these prevention tactics in place, your oral health can be treated without compromising your safety!
About the Author
In addition to his extensive education at the College of the Holy Cross and the University of Pennsylvania's School of Dental Medicine, Dr. Dooley has completed over 1500 hours of continuing education. With his talented staff at his side, Dr. Dooley uses his expertise to provide the highest level of care to the people of Spring Lake. If you would like more information on how he is committing to your safety during COVID-19, visit his website or give him a call at 732-974-2288.