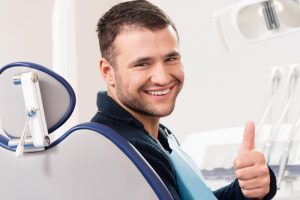 If you've been seeing a dentist all your life, you're probably used to them finding some plaque buildup from time to time. But did you know that your mouth could provide evidence for – or even contribute to – even larger problems throughout your body? Learn more about how oral health is connected with overall health and how your dentist in Wall Township can help you protect both.
What Clues Can Your Mouth Give Your Dentist About Your Overall Health?
Diseases that affect the whole body, also known as systemic diseases, tend to have oral symptoms 90% of the time, according to the CDC. Lesions in the mouth, for example, can be a sign of an HIV infection, while bone loss in the jaw can be an early sign of osteoporosis. Oral cancer, the sixth most common type of cancer, can appear as a persistent sore or a white patch somewhere in the mouth.
Some systemic diseases can make oral issues worse. For example, diabetes can make the body more vulnerable to infection, which can increase your chances of contracting severe gum disease.
How is My Oral Health Connected to Overall Health?
Everyone knows that the main culprits for tooth decay and gum disease are bacteria living in your mouth. Many researchers believe that when your gums become infected, these bacteria can enter the bloodstream and cause inflammation throughout the body.
Multiple studies have found a potential link between gum disease and a greater risk of heart problems such as heart attacks and stroke; this is thought to be due to inflammation eventually leading to important arteries narrowing. While it has yet to be found that gum disease can directly cause heart disease, it's possible that it may be a significant contributor.
On a different note, many of the common risk factors for oral diseases can contribute to other conditions as well. Tobacco, alcohol consumption, poor hygiene, and improper diet can harm your teeth and gums as well as other body parts.
How Can My Dentist Help My Overall Health?
By having your teeth regularly cleaned by a professional, you can prevent bacterial infections that could potentially spread. In addition, your dentist can identify worrisome symptoms and advise you on getting proper diagnosis and treatment early on, which is often important for a favorable outcome.
Don't take your oral health lightly; if you notice symptoms such as persistent pain, bleeding, or wounds that won't heal, make an appointment with your dentist in Wall Township as soon as you can. Not only could it potentially save your teeth, but it could also help your overall health.
About the Author
Dr. Edward J. Dooley opened his practice, Dooley Dental, in 1986. Since then, he has made it a point to provide patients with excellence in dental care. He is certified in several dental techniques including soft tissue laser, and he provides oral cancer screenings as part of regular visits. To make an appointment for cleaning, visit his website or call (732) 974-2288.