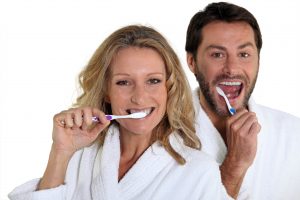 An old saying puts forth that men are from Mars and women are from Venus. It's true that in general, there are great differences in the way each gender tends to approach various aspects of life, from problem-solving to decorating and everything in between. Dental habits are even different between men and women! Your dentist near Wall Township is here to discuss some of the statistics behind how men and women treat their teeth.
Dental Visits
It's recommended that all adults, regardless of their gender, visit their dentist regularly for cleanings and checkups. However, it seems that women are more likely to listen to that advice. In a recent year, 68.9 percent of women visited their dentist at least once, whereas only 63.4 percent of men visited their dentist. Of course, not all of those visits focused solely on prevention. Many of them may have been for other forms of treatment.
A separate study, published in the Journal of Periodontology, found that women are almost twice as likely as men to receive regular dental checkups. They also have lower levels of plaque on their teeth and have a more positive attitude about visiting the dentist.
What accounts for the difference between how men and women view the dentist? It's difficult to say, but what's for certain is that many men end up paying for their neglect. They are more likely to suffer from gum disease and other oral health issues than women.
Daily Habits
In addition to visiting the dentist more often, women are also likely to have better daily habits than men. In fact, they're 8 percent more likely to be diligent about brushing their teeth twice a day; men may skip brushing here and there. Women are also 10 percent more likely to brush their teeth immediately after meals than men.
Men are more likely than women to engage in behaviors that can endanger oral health, such as using tobacco and consuming large amounts of alcohol. Also, males tend to play more contact sports than women, which results in a greater risk of tooth trauma.
Friendly Reminders for Both Genders
Whether you are male or female, oral health is extremely important. Here are some friendly tips to help you protect your precious smile:
Visit your dentist regularly. Finding a dentist whom you trust and whose personality you like can go a long way toward motivating you to keep up with regular appointments.
Set small goals. If you know your oral hygiene habits are a bit lacking, take small steps toward big changes. For example, you might start by setting the goal of brushing your teeth twice a day for an entire month. By the time the month is over, the habit should be ingrained on your daily routine! Then, you can move onto another goal, like flossing.
Protect your teeth from trauma. Wearing a mouthguard during physical activity can save you from broken teeth and other oral injuries.
Men are from Mars, and women are from Venus, but we should all be on the same planet when it comes to oral healthcare!
About the Author
Dr. Edward Dooley has decades of experience in dentistry, and he has helped countless men and women to achieve excellent oral health. If it is time for your next checkup, or you have questions about how to care for your teeth, contact our office at 732-974-2288.