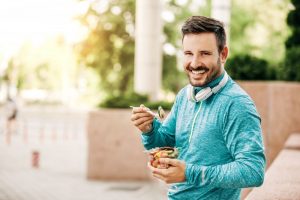 You probably know that if you want to improve your oral health, one of the first things you should do is cut out all those delicious sugary snacks. But what if you could boost the health of your smile by adding some tasty treats to your diet instead? Substituting unhealthy snacks with smile-friendly ones can reduce your sugar intake as well as support parts of your oral health! Here's what your dentist in Spring Lake recommends eating to naturally keep your smile happy and healthy.
Prevent Cavities with Raw Vegetables
Did you know eating raw vegetables can help keep your teeth clean? High-fiber veggies like carrots, celery, and cucumbers gently scrub your teeth as you chew, removing any plaque or bacteria that would otherwise accumulate and cause cavities. The extra chewing also encourages saliva production, which constantly rinses lingering food particles off your enamel.
Strengthen Enamel with Lean Protein and Dairy Products
Although your enamel is the hardest substance in your body, it wears down with use. Unfortunately, it can't rebuild itself like bone tissue can. When you eat foods like cheese, yogurt, turkey, nuts, and canned fish, your saliva can use the calcium and phosphorus they contain to replace the minerals your enamel has lost. This restores its strength and protects it against chips and cracks.
Combat Gum Disease with Vitamin C
Gum disease is a bacterial infection that affects more than half of the American population. If your immune system isn't strong enough to ward off the bacteria, the infection can worsen and spread, causing damaged gums, tooth loss, and larger health conditions. Thankfully, adding more vitamin C to your daily diet can help fight off infections throughout you body, including your gums. Fruits like oranges and pineapples are famously brimming with this important vitamin, but it can also be found in broccoli, cantaloupe, kale, sweet potatoes, and strawberries.
Bonus Snack: A Glass of Tap Water
Even though it's not technically "food," tap water is a great snack for your smile. Staying hydrated has a plethora of benefits, including preventing dry mouth. Saliva works to constantly hinder bacteria from accumulating and keep the enamel strong. In a dry mouth, bacteria quickly build up and eat away at the weaken teeth to cause cavities and tooth decay. Not only will drinking tap water wash off your teeth as it hydrates you, but it often contains fluoride as well. This is the same mineral you'll find in most toothpastes. When it binds with your enamel, it fortifies it and even helps it resist decay.
So if you're looking to improve your oral health, check your kitchen. Sticking to a smile-friendly diet is a natural, delicious way to keep your smile bright and healthy!
About the Author
Dooley Dental is committed to helping the families of Spring Lake, NJ and the surrounding communities keep their smiles beautiful, healthy, and intact for life. While Dr. Edward J. Dooley can help protect your smile with the most advanced dental technology and techniques at your regular dental checkup, he also places a high value on great at-home oral health care. He'd be happy to go over the best ways you can practically boost your oral health in your everyday life, so feel free to contact him at his website or (732) 974-2288.