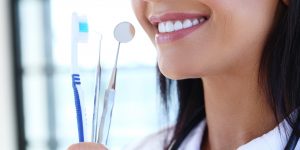 When it comes to your oral health, some things are simply beyond your control. Examples include genetics, whether dental care was available to you as a child, and any accidents or injuries. The good news is that one important factor to your oral health is very much in your control – your home hygiene habits! The relationship between oral hygiene and oral health is clear: the more time you spend taking care of things at home, the less dental work you need from a dentist in Spring Lake! So what are some "dentist-approved" tips to make your routine as effective as possible? Keep reading for four of the best!
1. Use the Right Tools
Toothbrush – When choosing a toothbrush, always use one with soft bristles and remember that smaller heads can be easier to reach into tight corners.
Floss – If you can, use woven or waxed floss because it will remove more plaque than the super smooth kind.
Oral Irrigator – Oral irrigators are a great addition (not substitute) for patients who have bridges, crowns, implants, or other dental work that's hard to access with other tools.
Mouthwash – The right mouthwash is also a wonderful addition to brushing and flossing. Choose an antiseptic rinse for gum issues, a fluoride rinse for cavity prevention, or an all-in-one formula!
2. Take Care of Your Toothbrush
Don't cover your toothbrush because it can actually encourage bacterial growth. Just rinse it thoroughly and let it air dry.
And remember to always replace your toothbrush about every 3-4 months because it will do a much better job at keeping your teeth and gums clean!
3. Focus On Technique
The way you brush and floss is just as important as the tools you use!
Brushing
Turn your bristles at a 45-degree angle to the gumline and brush for two minutes! One advantage of electric brushes is that they automatically stay on for two minutes.
Be sure to use very gentle pressure to avoid damaging your gum tissue.
Don't forget to brush your tongue every day.
Flossing  
Use your thumbs and index fingers to hold an 18-inch piece of floss and only work with 1-2 inches at a time.
Use a back-and-forth motion to move the floss past the contact point (where the teeth touch).
Once you're past the contact point, stop using the back-and-forth motion and gently move the floss up and down under the gumline.
Always move to a clean piece of floss to avoid transferring bacteria between teeth.
4. Ask For Feedback
Don't forget: Your bi-annual checkups are a chance to ask your hygienist or dentist in Spring Lake for feedback about how you're doing with your hygiene.
Oftentimes, a short technique demonstration is easier to understand than a written explanation. Not to mention that your dental professionals can recommend certain tools or products that will benefit you specifically.
Remember, the better you do at home, the less time and money you'll spend in the dental chair!
About the Author
Dr. Edward Dooley knows that good hygiene habits have the power to prevent extensive dental problems. His focus is on prevention first and treatment second, so he always takes the time to help his patients do the best job possible with their hygiene routine. If you have any questions, he can be reached via his website or at (732) 974-2288.