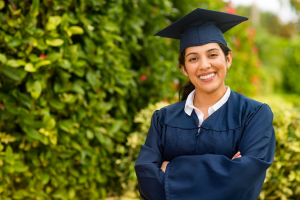 If someone close to you is about to graduate from high school or college, you're probably feeling both proud of them and excited for their future prospects! But you might be wondering if there's anything you can do to give them an edge as they receive their diploma and gear up to enter the "real" world—and there is! You can gift your loved one a brighter and whiter smile with the help of cosmetic dentistry, and by doing so, you won't just ensure that their pearly whites look stunning as they walk across the stage; you'll also be providing them with an advantage as they kick off their professional career! Keep reading to learn more.
How Cosmetic Dentistry Can Benefit Graduating Students
Your smile is arguably one of the biggest assets at your disposal within the professional world; first impressions matter greatly, and your pearly whites tend to be the first thing that people notice when they see you. A healthy and bright set of teeth can relay several positive traits that people find desirable, including confidence, cleanliness, and friendliness!
In fact, several types of professions benefit immensely from having an attractive and healthy smile, including things like:
Lawyers and those in the legal field
Teachers, professors, and instructors
Newscasters, meteorologists, and talk-show hosts
Television and movies stars, content creators, and influencers
Restaurant and hospitality staff
Beauticians, hairdressers, and salon owners
Businesspeople, salespeople, and consultants
Repairmen and contractors
Cosmetic Treatments Perfect for Grads
Of course, with so many varying cosmetic treatments available, you might not be sure what's suitable for your graduate's smile. Here are a few examples of some popular and accessible options that can guarantee promising, life-changing results:
Teeth whitening – If your graduate's smile appears stained or discolored, teeth whitening can easily whiten their teeth by up to several shades. Just be sure to schedule the appointment in advance of the ceremony to ensure optimal and full results.
Porcelain veneers – Veneers are perhaps the most versatile of all cosmetic treatments, as they're capable of totally transforming a smile's appearance tenfold.
Cosmetic dental bonding – Like veneers, dental bonding has several applications; it can easily address minor chips and cracks, among other minor aesthetic issues. And better yet, the process is notably quick and straightforward!
Gum recontouring – Sometimes patients can have what's referred to as a "gummy" smile, in which they have excess gum tissue that makes teeth appear too short. This treatment allows your dentist to carefully sculpt the gumline as needed to reveal more of your teeth's surface area.
Of all of life's milestones, few are as monumental as wrapping up your education and starting a new chapter. Having a healthy and attractive smile will ensure that your loved one looks and feels their best during their big day and as they move forward.
About the Author
A Spring Lake native himself, Dr. Edward J. Dooley is honored to provide an elite level of care for patients and families in his hometown! His practice offers a wide range of cosmetic treatment options that are certain to help you and your loved ones achieve stunningly beautiful smiles. If you or someone you know is about to graduate and you'd like to arrange a visit, feel free to contact Dr. Dooley through his practice's website or by phone for additional information or assistance. Telephone: (732) 820-5493.