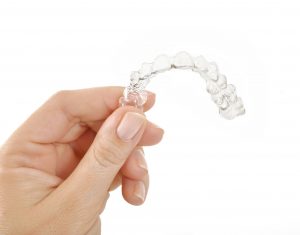 There is no better accessory than a gorgeous smile. Straight teeth look amazing on anyone. Plus, they have health benefits; they make it easier to maintain a clean mouth, preventing tooth decay and other oral health issues. But what should you do if your pearly whites are misaligned? You could opt for traditional metal braces, but many people have found that using Invisalign in Wall Township is the more convenient option. How does Invisalign work?
The Invisalign Method
Traditional metal braces use brackets and wires to apply gentle and constant force to your teeth. Eventually, this pressure repositions your teeth and gets them where they need to be. Invisalign uses a similar principle to get your pearly whites into their proper places. However, instead of brackets and wires, clear braces in Wall Township employ custom-made thermoplastic aligners.
When you head into your care provider, they'll design a series of Invisalign aligners. You'll wear the aligners for 20 to 22 hours every day. Every two weeks or so, you'll start using a new clear brace. After roughly 12 to 16 months, you'll have the straight smile that you've always wanted.
Advantages of Invisalign
Clear braces offer numerous perks that have caused many people to prefer them over traditional braces:
The aligners are removable, which means you'll be able to eat and drink without worrying about your snacks getting caught in your braces.
Having removable aligners means you can brush and floss according to your normal routine.
Invisalign is difficult for onlookers to spot. People might notice that your teeth are moving, but they don't have to know that you're wearing braces.
Invisalign is faster than traditional braces, which take an average of two years to do their job.
There are no brackets and wires to irritate your mouth.
You'll be able to see a digital representation of your new smile at the beginning of the process — you'll have a lot to look forward to!
Is Invisalign Right for You?
While Invisalign is a convenient way to achieve a new smile, it isn't suitable for everyone. It may not work for complex and severe orthodontic issues. Also, you need to have the self-discipline to keep your aligners in your mouth for the recommended amount of time; for this reason, young children might not be a good fit for Invisalign.
You and your Invisalign provider can discuss all of the pros and cons of this treatment so you can settle on a choice that is right for you. You'll talk about such things as cost, convenience, and how long it will take to see results.
Invisalign might let you say goodbye to crooked teeth and hello to the best accessory there is — a beautiful smile.
About the Author
Dr. Edward J. Dooley has been helping his patients achieve healthy, attractive smiles since the 1980s. As a member of the International Association for Orthodontics, he is well-equipped to provide treatments that reposition misaligned teeth. If you have questions about Invisalign, feel free to reach out to Dooley Dental at 732-974-2288.