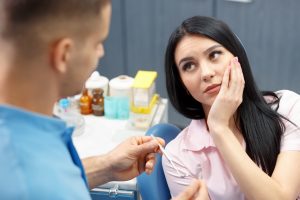 When a tooth is avulsed (knocked out), patients may think they have to have the tooth replaced. Actually, a dentist may be able to save the knocked out tooth in many cases. The first thing you should do when a tooth is avulsed, is take a deep breath. The situation may be painful, stressful, or scary, but it's important to stay calm and assess the situation to ensure your safety during a dental emergency. It's also important to carefully explain your emergency so a dentist or physician can provide the best directions to help you renew your smile.

Handle with Care
You need to track down the knocked out tooth, but it's important that you handle the tooth by the crown and not the more sensitive root. Holding the tooth by the crown, carefully examine it for signs of damage. You should also take a close look at the tooth's socket to ensure you have a complete picture of the dental damage.
Clean the Tooth & Socket
Continuing to hold the tooth by the crown, use cool water to clear away any blood or foreign debris from the tooth. Don't rub at the tooth, use a toothbrush, or remove any natural tissue that may still be on the root as this can aid in reattachment. You should also swish cool water in the vacated socket to prevent infection and remove debris. Don't brush the area or use mouth rinse unless directed to do so by a dentist.
Replace the Tooth
Finally, replace the missing tooth in the socket, and bite down on gauze or clean cloth to hold the tooth in place. This pressure will also slow bleeding. You can use an ice pack at twenty minute intervals (20 on and 20 off) to reduce swelling, relieve pain, and aid in the cessation of blood flow. If you're unable to replace the tooth, bite down on gauze and use an ice pack to stop any bleeding. Then, store the tooth in a container of milk or water to preserve the natural dental structure.
Contact Spring Lake Emergency Dentist – Dr. Dooley
For Spring Lake dental patients of Edward J. Dooley, DMD, a dentistry emergency doesn't need to be handled alone. Contact the Dooley Dental team right away. We'll walk you through pain management and first aid over the phone. Then, we'll schedule an appointment to see you as soon as possible. Time is of the essence when it comes to restoring a knocked out tooth. The sooner the tooth is replaced, the better the chance is the tooth will reset. If you want to find out more about our other dental services, come back to visit the dentistry blog regularly. We'll keep you informed about all of the services we provide and upcoming community activities and events.