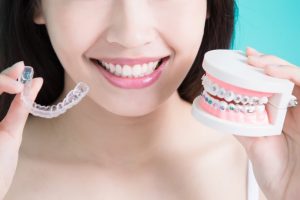 As you stare at your crooked teeth in the mirror, you wonder what your orthodontist is going to say. Will he suggest a mouth full of metal or something more subtle like clear braces? You're adult, and you don't want the hassle and fuss that come with traditional braces. You want an orthodontics in Spring Lake treatment that will let you continue with your life as it is, and not one that has you avoiding all social gatherings for the next year or two. But do clear braces really work? Will you achieve the results you really want? Before talking to your dentist, let's look at all the benefits clear braces have to offer.
Clear vs. Traditional Braces
There's one thing you should know as it pertains to braces. No matter which method you choose, both traditional and clear braces will help you achieve your desired result. When it comes down to which type of braces you want to wear, it's ultimately based on the look, style, comfort, and the timeline for treatment.
With clear braces, your treatment is practically unnoticeable to others, and much less painful for you. Traditional braces will have everyone's eyes going straight to your teeth, and the frequent visits to the dentist for wire adjustments will have you experiencing some serious discomfort.
A few other ways these two differ include:
The way they feel. Clear aligners offer a smooth alternative to the bulky metal brackets and wires. With clear braces, you don't have to worry about your gums, cheeks, or lips rubbing against a rough surface and causing irritation as you do with traditional braces.
Their flexibility. If you want to continue eating whatever you want, clear braces give you that flexibility. By simply removing them prior to eating or drinking, you can enjoy that hearty steak. Traditional braces, which cannot be removed, make it difficult to eat certain foods because of the likelihood that food particles will get stuck between brackets and wires.
They're results. If you want quicker results, clear braces are the way to go. While it depends on the severity of your dental needs, this method of orthodontic treatment will most likely have you seeing straighter teeth much faster than traditional braces.
The Benefits of Clear Braces
If the differences listed above aren't enough to persuade you, maybe some of these added benefits will help you in your decision to choose clear braces.
Low maintenance. Clear braces are easy to clean. Brushing and rinsing your trays in lukewarm water or a denture cleaning solution will be enough to wash away any bacteria or saliva buildup. It also makes it easier for you to brush and floss your teeth.
Gentler treatment. Every two weeks, you'll remove your aligners and swap them out for a new set. This allows your teeth to continually move toward their desired position. This is a much gentler way of shifting your teeth, unlike the harsh wire adjusting that comes with traditional braces.
Fewer visits to the dentist. When you are set up with clear braces, you'll be given all the necessary sets to get you through treatment. Only a few times will you need to visit the dentist to ensure your treatment is on track.
With clear braces, you don't need to shy away from those fun outings with friends. Let your braces do their work, let your treatment stay a secret, and continue enjoying the life you're living while you're on the way to healthier, straighter teeth.
About the Author
Dr. Edward J. Dooley, DMD, FICOI, attended the College of the Holy Cross for his undergraduate degree. He then went on to attend the University of Pennsylvania's School of Dental Medicine to achieve his Doctor of Dental Medicine. Dr. Dooley is a veteran of the United States Navy, serving from 1982-1985. Providing comprehensive services, he and his team are prepared to help you and your family receive the dental care you need. To learn more, contact us via our website or by calling (732) 974-2288.