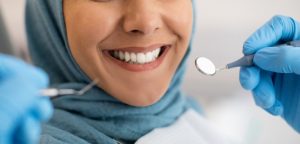 There's more to a smile than meets the eye. Research has found that the simple act of showing your pearly whites releases feel-good chemicals in your brain, resulting in a happier mood! It also impacts people around you, causing a ripple effect by making them grin too. Unfortunately, you may not feel confident in your teeth, which makes you feel self-conscious to show them. If you are considering a smile makeover, you might not know what to ask your dentist. These five questions will help you get the ball rolling toward your new, radiant smile!
#1. What Dental Issues Can Be Fixed with A Smile Makeover?
Modern technology and techniques have made it possible for nearly all dental imperfections to be corrected! Whether you have chipped, uneven, stained, or missing teeth, you can receive cosmetic enhancements from a wide range of dental treatments to get the pearly whites you dream of. You can share your goals with your dentist at a consultation and, after a thorough examination, they can recommend the best options for you.
#2. Can I See Before and After Pictures of Other Patients?
Reviews and pictures are a wonderful way to know if a product will be right for you; this includes dental treatments and procedures! You can ask to see examples of patients who have had similar imperfections in their smiles and see the results after a specific treatment. Many dental practices even have a before/after smile gallery on their website for convenient viewing. Additionally, they may also have reviews on their websites so you can easily check out their patients' personal experiences, too.
#3. Will My Smile Makeover Look Natural?
No one wants their teeth to look fake or overdone. Many years ago, this may have been a valid concern. However, current dentistry has the tools and technology to keep your smile looking completely natural. Of course, it also relies heavily on your dentist's skills and abilities. To ensure you're getting the results you want, find a dentist that has a significant smile makeover experience.
#4. How Long Will My New Smile Last?
As with any investment of time and money, you will want to make sure your new pearly whites will stand the test of time. While no dental treatment or procedure will last forever, your dentist should have the skills necessary to provide long-lasting results. During your consultation, be sure to ask them what the expected lifespan of your treatment or procedure would be, as well as what can be done to maximize its longevity.
#5. How Will Be the Expected Time Frame to Complete My Improved Smile?
Depending on the recommended procedures needed to revamp your smile, your cosmetic transformation could possibly be completed in as little as one visit. For more extensive makeovers, the process could span over several visits, depending on where you're starting and where you want to go. Be sure to discuss the expected time commitment with your dentist.
By keeping these questions in mind, you will be fully prepared to begin the path toward your new dazzling smile!
About the Author
Dr. Edward Dooley and his team at Dooley Dental are eager to help you achieve your smile goals! He earned his dental degree from the University of Pennsylvania School of Dentistry and is an active member of several dental associations. With nearly four decades of experience, he offers a broad range of dental services, including cosmetic treatments. To schedule a consultation, contact him through his website or call (732) 974-2288.