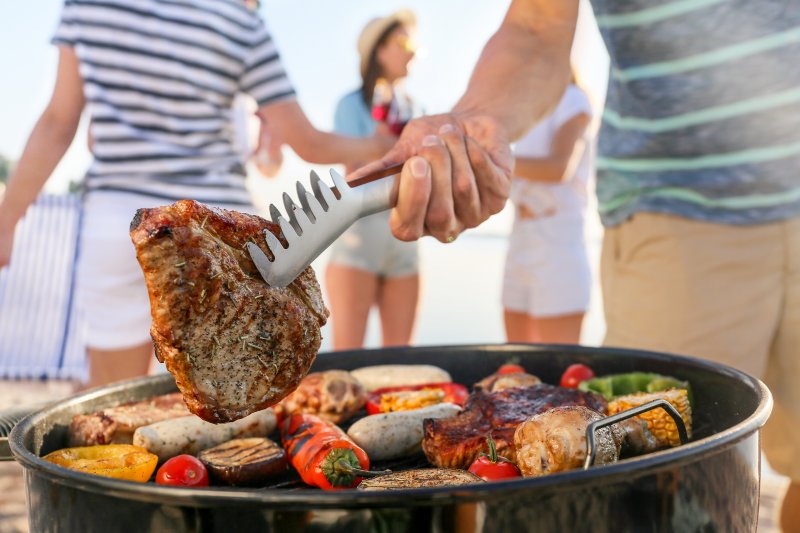 If you're planning on going to a friend or family member's house for dinner this summer, there's a pretty good chance you're going to find someone grilling up some delicious foods. However, if you're missing teeth, you may find it difficult to eat most foods that come off a grill. Dental implants are designed to make it easy to enjoy all your favorite summer foods again. Find out which foods you can enjoy with ease and how to keep your dental implants clean along the way.
Corn on the Cob
In the past, you may have needed to cut corn off the cob and eat it separately just to enjoy it, but not with dental implants. Feel free to rub on the salt, pepper, butter, and other garnishes onto your corn and dig in once your dental implants have fully healed! Just make sure not to bite too hard to avoid damaging your teeth or implant restorations.
Keep in mind that eating this way can make it easy for kernels to get stuck in between teeth. If this becomes a common issue, cutting the corn away from the cob first can help you prevent this problem. Flossing after eating is also quite effective.
Steak, Pork Chops, and Other Grilled Meats
In the past, eating a cut of steak, set of pork chops, and even grilled chicken may have proved to be too difficult with a denture alone. After dental implants fuse with your jawbone, there's no risk of your tooth replacement shifting or slipping out of place. Chewing cooked meats feels natural, allowing you to enjoy your summer meal without any interruptions.
With that said, these meats are fibrous and get stuck in between teeth quite easily. This not only feels uncomfortable for many, but makes it easier for oral bacteria to produce plaque acids. Brush and floss after eating these foods and keep your bites relatively small.
Nuts
Nuts are packed with unsaturated fats and other nutrients that contribute to a healthy heart. They're also a great snack food while you're waiting for a grilled main course or enjoying a refreshing drink. If you've ever tried eating them with missing teeth, however, you quickly learned that it simply was not a feasible option. With dental implants, eating anything from peanuts to almonds to cashews to pistachios is never an issue. Just be sure to watch out for products with a high sodium content as these can contribute more to tooth decay.
Apples
Fruits like apples are not only a good source of fiber, potassium, and vitamin C, but they also help loosen food debris that can get stuck in between teeth. Of course, biting into an apple with missing teeth or a denture poses similar problems to eating corn on the cob. Either your teeth weren't able to break it down properly or your denture would come right out after taking a bite. That's never a problem with dental implants, whether you have a single one or multiple to hold your denture.
The summer doesn't have to be so difficult just because of tooth loss. Dental implants can give you back your smile, expand your diet, and boost your confidence all at the same time!
About the Author
Dr. Edward Dooley is a Fellow of the International Congress of Oral Implantologists and has been placing dental implants for years. Thanks to his expertise, he can complete the entire treatment process in-house for your convenience. Whether you are learning about replacing teeth for the first time or you're tired of using a traditional denture, you can learn more about dental implants by contacting him through his website.