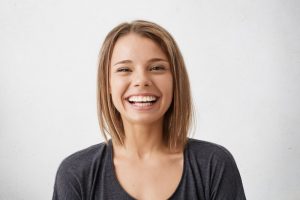 Your smile is one of the first things people notice about you. That's why it's important that you're not afraid to show off your pearly whites. But what if they're not so pearly and white anymore? Years of smoking or consuming dark beverages like tea and coffee can leave teeth looking yellow or gray. Teeth whitening in Spring Lake is a great way to remove those stains and feel confident in your smile. Let's look at the top 4 reasons to get your teeth whitened.
Boost Your Self-Confidence
If your teeth are stained or discolored, you might be embarrassed to show them to the world. With a new and improved smile thanks to your cosmetic dentist in Spring Lake, you'll feel proud of the way you look. People with white teeth are often seen as more attractive and successful. Potential love interests will be impressed with your smile and how comfortable you are with yourself. Coworkers will admire your confidence in the workplace. Even random people you meet on the street will be able to pick up on the confidence you will exude thanks to your beautifully white teeth.
Look Younger
Tooth enamel gradually fades away due to the natural aging process, leaving teeth looking yellow. Whitening your teeth will restore their youthful appearance and make you look and feel so much younger. Additionally, once people see your bright new smile, that is all they will be focused on. Your new pearly whites will shift everyone's attention away from any wrinkles in the rest of your face. People will only notice your youthful smile. Even if this isn't your main concern, it's another bonus of teeth whitening.
Nail Your Next Job Interview
If you're ashamed of the way your teeth look, you might not smile as much as you should during an interview. You might answer questions with tight lips to avoid judgment. However, this can do more harm than good. Your interviewer might not have great things to say about a candidate who doesn't smile. They might offer the job to someone else with the same qualifications as you, but who smiled more. Interviewers are much more likely to consider you for a position if they deem you as friendly. Also, a white smile gives the impression that you put in the effort to take care of yourself, which is a major plus in job interviews.
Be More Photogenic
Another drawback of having stained teeth is that you may be afraid to smile in pictures. Maybe you try smiling with your mouth closed, but it always turns out looking more like a grimace than a grin. Teeth whitening can help restore your confidence, so you'll have no problem getting your picture taken. Not only that, but you'll be able to look back on those pictures and smile just thinking about how happy you look.
With all these benefits, it's easy to see why teeth whitening is so popular. Contact your cosmetic dentist today for more info on how they can improve your confidence today!
About the Author
Dr. Edward J. Dooley earned his Doctor of Dental Surgery degree from the University of Pennsylvania's School of Dental Medicine. He then served as a Dental Officer in the Navy from 1982 to 1985. Following his return, he opened his own private practice in Spring Lake, NJ. To learn about how he can help brighten your smile, click here or call (732)-974-2288.