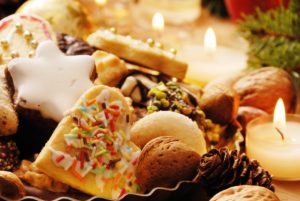 At Dooley Dental, we are dedicated to helping our patients, friends, and family members lead happy, healthy lives. Our dentist and team members dedicate their time, talents, and funds to support local charitable organizations, community events, and our schools. At our family dental office, we are passionate about making kids smile, but not every family has the same benefits and opportunities that we do. Because we're lucky enough to give our kids reasons to smile every holiday season, we take this opportunity to give back to families in our communities who need a little help making their holidays bright. One of the many charitable organizations our team members work with during the holidays is the Madonna House Christmas Giving Program, but we can't meet our giving goals without you! Keep reading to find out how you can partner with us to support those in need this holiday season.

What is the Madonna House?
Founded in 1987 by Rebecca Blonski, the Madonna House provides necessary items to at risk women and children in and around Neptune. Celebrating 30 years of giving this year, the Madonna House team continues to go above and beyond to help local women and children to make their holidays great. With local partners like Dooley Dental, the Madonna House is able to provide gifts for kids in Spring Lake, Neptune, and other surrounding communities that will ensure they have a happier holiday.
How Can You Help?
Since 2011, Dooley Dental has proudly placed a "Giving Tree" in our waiting area. The tree is ornamented with gift tags that contain requests for clothing, books, toys, and other necessary items like diapers and formula. Each tag represents a gift that will be provided to a child up to 15 years of age in our local community. Stop by to choose one tag or a few this holiday season. Return your unwrapped gifts to our office in early December, and our team will deliver them to Madonna House in nearby Neptune. The Madonna House team will distribute them to families before Christmas. For the past six years, our patients have gone above and beyond delivering happy holidays to local families, and we are so proud of the work we do to support the Madonna House each holiday season.
Why We Serve Our Communities
At the Spring Lake dentistry practice of Edward J. Dooley, DMD, FICOI, we are dedicated to making our community a better a place to live, work, and play, and our passion for putting smiles on people's faces doesn't end when we leave the office for the day. The Dooley Dental team always goes above and beyond to make dental care a good experience, and we love helping our friends and neighbors in Spring Lake at every opportunity. If you want to learn more about our community involvement and join us in supporting local charitable organizations and events, give our team a call today. We'll be happy to talk to you about the Madonna House Christmas Giving Program, our dental services, and schedule an appointment to visit our Spring Lake practice before the end of the year.