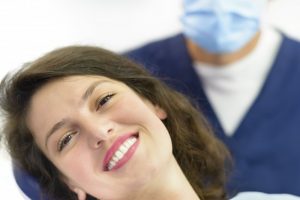 You're at home getting ready for an evening with your friends. As you stand in front of the mirror, you grab your toothbrush to remove the remnants of that chocolate cookie you had moments earlier. When finished, you bare your teeth to ensure everything is gone when you suddenly realize there is a tooth that has a tiny chip in it and another that is looking a bit more yellow than before. As you survey your teeth closely, your excitement about going out changes to despair, and you call your friends to say, "You're sick" and can't make it. If this situation sounds all too familiar, why not do something to improve your smile and get you back in the game? If you're ready to say enough is enough, find out how porcelain veneers in Spring Lake can positively impact your smile.
Versatile Treatment Solution
No matter if you have chips, cracks, stains, discoloration, gaps, minor misalignments, crooked or misshapen teeth, porcelain veneers are an extremely versatile option when it comes to hiding smile imperfections. During your dental consultation with your dentist, he will examine the problem areas and determine if veneers will be enough to give you the results you desire.
Longer Lasting Treatment
Don't want to waste your money on a cosmetic solution that will have you seeking a replacement in 3 or 4 years? That is completely understandable and one of the reasons veneers are so popular. With proper care and maintenance, your new smile can last around 10 years, but it is important that you take the necessary steps to ensure they remain in good shape. Veneers are much less likely to stain than traditional tooth enamel, so the chances of staining are slim; however, you will need to avoid hard, crunchy foods, ice, or chewing on inanimate objects, as these can chip your veneers and cause you to seek help for a replacement.
Boost Your Confidence
Remember when you felt self-conscious and "sick," so you opted to cancel on your friends and stay in for the evening? Porcelain veneers can turn all that around and give you the confidence you need to smile brighter and bigger the next time you're with friends or family. When you feel good about your smile, it'll be evident in the way you carry yourself. Since it's often the first thing people notice, veneers can make sure your smile looks its very best no matter where you go.
Low Maintenance and Easy to Clean
Porcelain veneers are extremely easy to maintain, especially if you're already accustomed to practicing good oral hygiene habits at home. Apart from your standard brushing twice a day for two minutes and flossing at least once a day, it will also be helpful to rinse with an ADA-approved mouthwash and maintain your regularly scheduled dental checkups and cleanings every six months.
Don't spend another night alone feeling down about your smile. Talk to your dentist about how you can transform the look of your teeth with porcelain veneers. You might just be surprised how impactful this type of cosmetic dentistry can be for your aesthetics and confidence.
About the Author
Dr. Edward J. Dooley attended the College of the Holy Cross for his undergraduate degree. He then went on to attend the University of Pennsylvania's School of Dental Medicine to achieve his Doctor of Dental Medicine. Dr. Dooley is a veteran of the United States Navy, serving from 1982-1985. As a cosmetic dentist, Dr. Dooley believes in the positive impact various treatments can make a person's smile. From teeth whitening to porcelain veneers, the transformations can be life-changing. To find out how you can take your smile to the next level, contact us via our website or by calling (732) 974-2288.